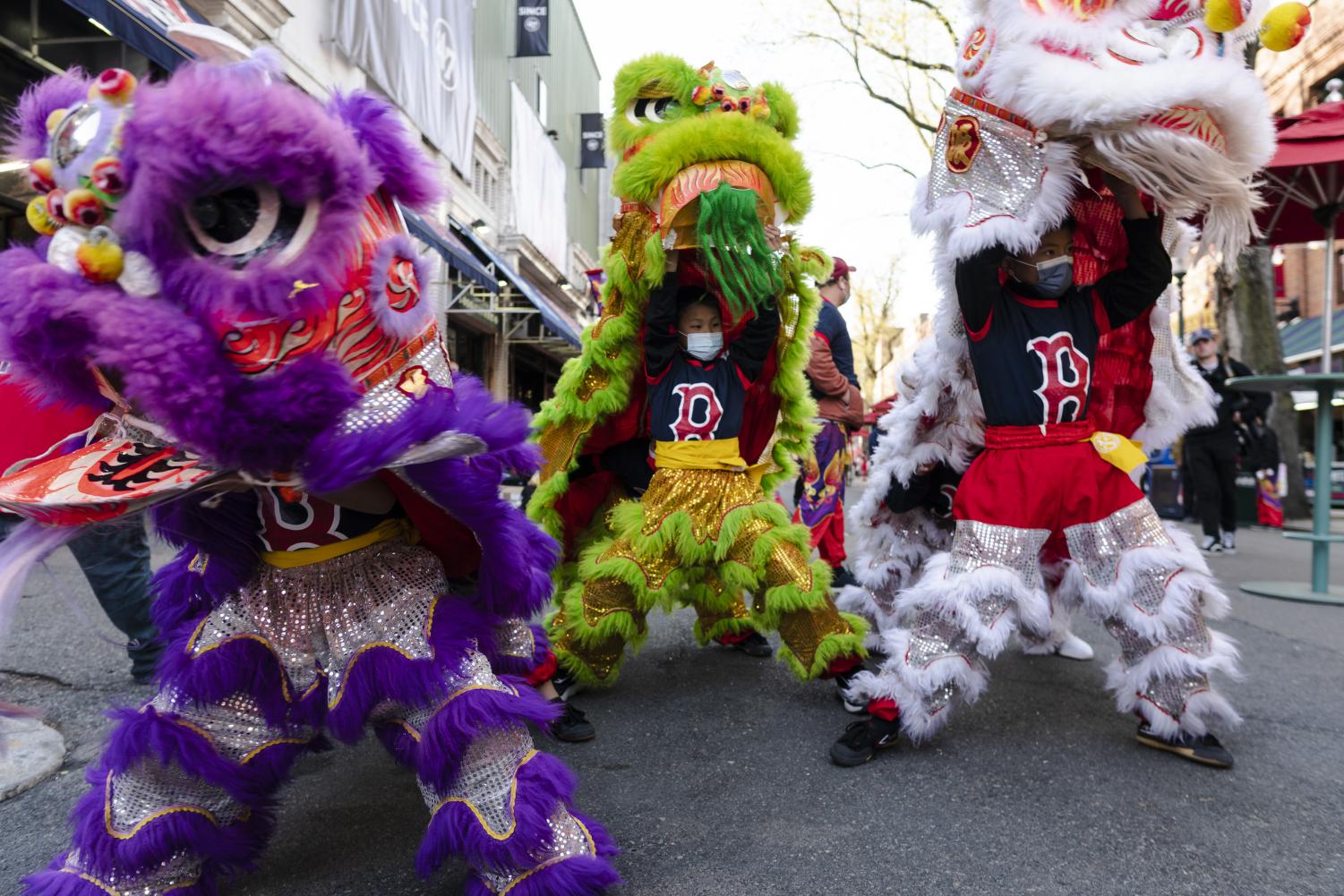 Red Sox kick off AAPI Heritage Month at Fenway Park
On Tuesday night, Jersey Street was filled with Red Sox fans ready for a game against the Los Angeles Angels. Amid the noise of the crowd, clamoring for photos of the historic baseball stadium and sizzling hot dogs, were the thunderous sounds of the tanggu drum and crashing cymbals as Chinese lion dancers put on a show.
For their first home game in May, Asian American and Pacific Islander (AAPI) Heritage Month, the Red Sox worked with Quincy Asian Resources, Inc. (QARI) as a community partner to bring a cultural parade to life. QARI is a nonprofit organization based in Quincy, Mass. that empowers Asians and immigrants.
The range of events also included Japanese taiko drumming and a performance of Polynesian dance and music spread throughout Fenway Park. Before the first pitch, spectators feasted on pan-Asian snacks, such as summer rolls, tofu satay and eggplant miso buns, while watching the performances.
"I think making Fenway Park a welcoming place for everyone and representative of Boston's diverse community [that the city] gets a lot of credit for. We want to make sure we reflect that," said Kurt Zwald, director of research, intelligence and analysis at Red Sox.
Zwald is one of 12 Red Sox members from the Social Justice, Equity and Inclusion Committee (SJAC) formed in 2020. The internal team was created to promote diversity, equity and inclusion (DEI) efforts for all staff members, from the ballpark to the box office. Zwald recognizes that the crowd at Fenway Park is often predominantly white, so they have implemented initiatives to continue their work in DEI.
The 2021 Atlanta spa shooting triggered a speech on the AAPI legacy and the growth of anti-Asian hatred nationwide. Sonya Bhabhalia, district and government affairs assistant for the Red Sox, said she hopes Fenway Park can become a place where the AAPI community can share their culture.
"We knew there was a lot of discussion around stop asian hate, especially in Boston. We have a huge Chinatown community," Bhabhalia said. "The conversation [on] "How do we use our platform to amplify this message in different ways to reach the Asian community" emerged from these early conversations. »
As co-captain of an AAPI Employee Resource Group formed by SJAC in 2021, Bhabhalia has been actively working with her colleagues to drive an initiative to educate Red Sox personnel about AAPI culture.
"That's really important in a baseball organization, where you have the front office that takes care of your marketing, your community relations, and your ticketing. [to] to be able to connect with people on the sports side and on the pitch," Bhabhalia said.
The Zwald and Bhabhalia teams consulted Rep. Tackey Chan of the Second Norfolk District to gain an in-depth understanding of the stories and struggles of AAPI individuals across Massachusetts. Zwald said planning the Sox's first AAPI heritage event with community leaders pushed him out of his comfort zone to think critically about AAPI representation.
"I think we'll also want it to be more celebratory in nature to AAPI culture," Zwald said. "We wanted to have more activations and ways to showcase different cultures."
QARI CEO and Chairman Philip Chong was invited to an initial launch event in May 2021 and returned to the field this year to work with the Sox to create the AAPI Heritage Events Program. As a team, they also crafted an AAPI legacy from the Red Sox T-shirt featuring "Boston" translated into multiple languages.
"I think for an institution like [the] Red Sox who want to work with community organizations, like QARI, [this] is a great first step to show that we are taking this initiative together," Chong said. "Throughout the planning process, we were highly respected. Frankly, [the Sox] bent back to really help us make it work.
The AAPI Heritage Event was made possible through Chong's partnership with Shin Daikoa Japanese taiko drum ensemble in Boston, and Wah Lum Kung Fu & Tai Chi Academya martial arts school based in Malden.
Chong pointed out that the term AAPI is not just a monolith but an umbrella term covering a range of aspects of a person's identity.
"There's a very diverse community in the Asian American Pacific Islander community…there are so many very different groups in terms of language, culture, food, activities and perceptions, styles, all these other things," Chong said.
He also hopes to spark the curiosity of attendees through the event and allow them to go beyond just scratching the surface to learn more about AAPI's identities, cultures and differences.
"I want people to accept [AAPI heritage] and as a starting point to be educated," Chong said. "Through the game, we want them to remember that May is celebrating AAPI month first. And then hopefully it will be [be of great] interest [for attendees] to learn more."
The month of May has been designated to celebrate the AAPI legacy and commemorate two key dates: the arrival of the first Japanese people in the United States on May 7, 1843, and the completion of the first transcontinental railroad in the United States which was largely built by Chinese workers on May 10. , 1869.
For Chong, Boston is a melting pot. Boston is a magnet for international students, who make up 28% of the city's residents, according to Census data between 2016-2020.
"Boston is a very safe, diverse and very stimulating city," Chong said. "We hope [Boston] becomes a model or a success, then other places will be eager to do more things like [the Sox's AAPI heritage event]."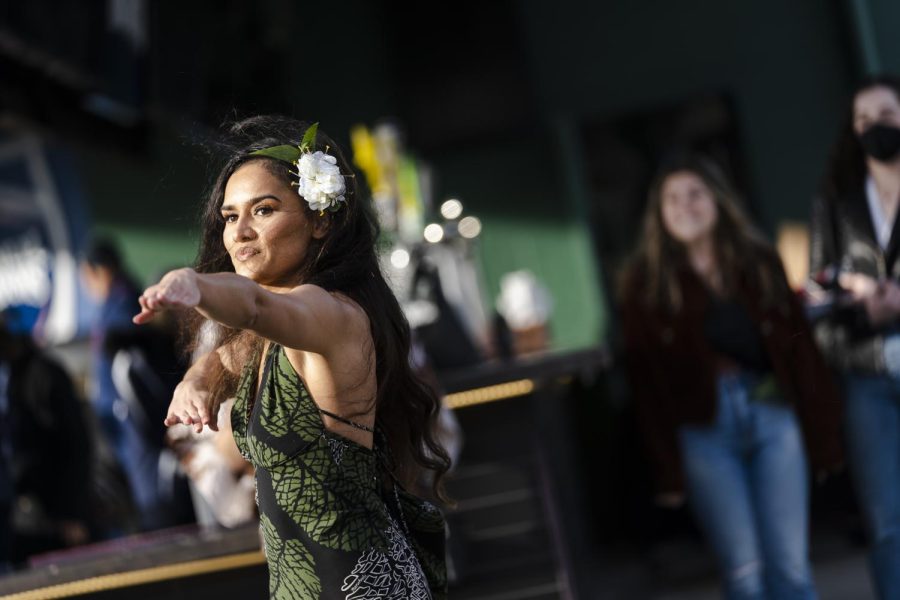 Tia Midro, a health sciences and psychology student at Northeastern University, led a Polynesian study dance performance with students and graduates of the Massachusetts Institute of Technology and Harvard University. She said having the platform to introduce her culture to a large audience was "surreal".
"Coming from a Hawaiian background, supporting and representing Native stories and representing [them] with precision, thought and respect," said Midro. "That's my goal: to share the history and language of Hawaiian culture."
Midro's journey of research and community building was a "scary step in my life" – she moved to Boston from Kapolei, Hawaii solo for higher education. She ultimately found her cultural roots with Polynesians and Pacific Islanders who also live in the Greater Boston area, and said she felt her intersectional identity was represented at the event.
"Being from Hawaii, like most Hawaiians, I'm mixed with a bunch of different ethnicities," Midro said. "I'm mostly Hawaiian, but I also have Asian ancestry. How [the AAPI event] represented both parts of my identity just really hit home [for] me."
Sophie Park contributed photos to this piece. Park is a Korean American documentary photographer based in Cambridge, MA. You can visit her website at www.sophieupark.com