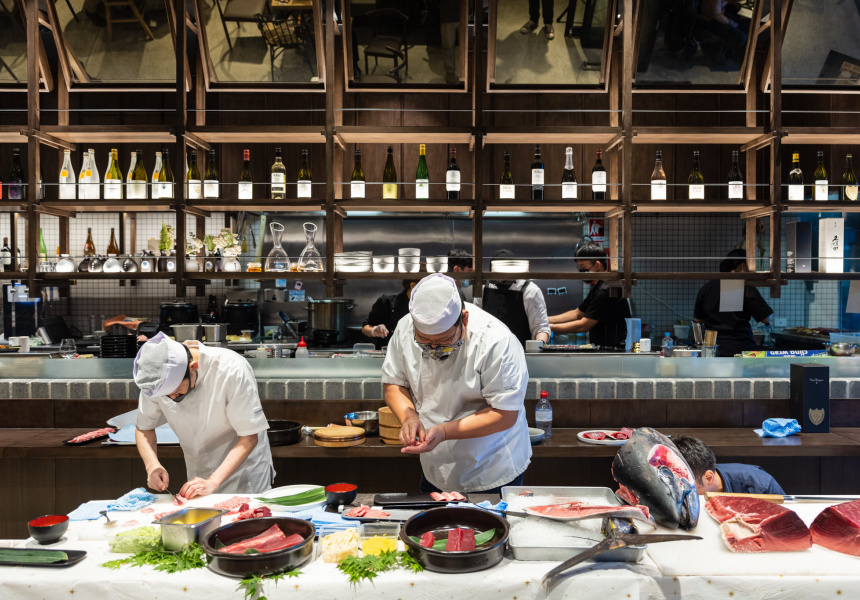 Two top Japanese chefs host a traditional tuna carving show in Sydney
"Traditionally, tuna is the most important fish in Japan," says Dennis Oh, owner and chef of Izakaya Tori restaurant in Marrickville. Large format. "The tuna cutting show is a highly anticipated event that usually takes place every year, often when the restaurant opens or at the start of the bluefin tuna season. It is also used as a measure of restaurant level – while tuna is a favorite in Japan, it is not common to see fish as a whole in Japan.
This month, Oh and Hideaki Fukada – head chef at the hugely popular Kuon Omakase in Darling Square – will team up for two tuna carving shows, June 10 and 17, at the Sheraton Grand Hyde Park seafood restaurant, Feast. The shows are exactly what they sound like: a whole Tasmanian bluefin tuna, freshly line-caught and flown in that morning, will be sliced ​​up by the two accomplished chefs in full view of the audience. Guests can bid on some of the best cuts of tuna, and Fukada will share a bit of the history and significance of the ceremony.
"Most people know that otoro is the most expensive part of tuna," Oh says. "It's the oiliest and most delicious part. But in the tuna show, kama-toro is the best part.
One of the fattiest parts of the fish, the kama-toro is the flesh collar, jawbone and gills of the tuna.
Those with winning bids can have their cuts served in sashimi and sushi, or (depending on the piece), baked. But not everyone will be hungry. The evening begins with cocktails while live music plays in the Sheraton's atrium bar, followed by a traditional kagami biraki (sake welcoming ceremony) in the restaurant.
Guests can graze on lobster, Sydney rock oysters and tiger prawns while Oh and Fukada prepare a menu that includes fresh tuna from the show, as well as other dishes such as Wagyu yakitori, chawanmushi (cream savory eggs) with truffles and mentaiko (cod roe) butter. , and miso-glazed toothfish. Everything will be complemented by a dessert and traditional Japanese pastries.
Matching wines will be included on the menu, while rice lagers and sakes will also be available, along with a cocktail list, champagne and premium wines for an additional fee.
The Tuna Carving Show will take place at the Sheraton Grand Sydney Hyde Park on June 10 and 17, from 12 p.m. to 4:30 p.m. Book tickets here.