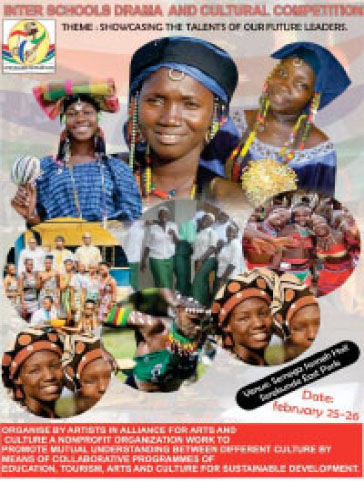 AAAC will organize an interschool cultural competition
The event will be organized in partnership with the National Arts and Culture Council, Kanifing City Council. The event is designed to promote and increase awareness of the fields of arts and culture in schools, thus creating an opportunity for students to be up to date with the rich cultural norms and values ​​of the country. It would also allow participating schools to create drama and cultural groups in schools.
More than 16 upper and lower secondary schools in Kanifing Municipality have expressed interest in participating in the event.
The theme of the event is'Highlight the talents of our future leaders, No to violence against girls and hate speech in our society ".
According to Saloum Sheriff Janko, coordinator of the Artists program of the Alliance for Arts and Culture, regional competitions are also on the horizon, adding that the event will undoubtedly showcase the country's rich culture and heritage to the world.
This year's edition, he added, would also feature a plethora of theater clubs, performers on different stages to perform live, public speaking, and this show will not only feature The Gambia but Africa's rich glamorous culture.
"We have a series of programs to educate schools and communities on arts and culture, health, environmental issues, community library projects, cultural centers for students and researchers. ICT project for children from rural communities. Our goal is to connect people through cultural collaboration, education, tourism and exchanges for sustainable development. Promote arts and culture, mobilize resources for development activities of cultural promotions, Create awareness campaign for the rights of women and children in rural communities, serve as a development association to promote cultural heritage, connect people of different origins and advocate for world peace, increase public and private support for arts and culture by promoting the importance of arts and culture in building community life, achieving excellence in schools and sustaining economic vitality in all parts of The Gambia and beyond, ".
The event will focus primarily on the promotion of various arts and cultures, including performing arts (music, dance, theater, etc.), creative arts (drawing, sculpture, leatherwork, weaving, creative writing, baking, etc.) tie-dye, batik, Fashion and design, photography, pottery print making, doll making, instrument carving, etc.
The first school will go with a prize and a cash prize of D 20,000, while the second and third will come away with D 15,000 and 10,000 respectively. Participating schools will receive certificates and a cash prize of D5000.