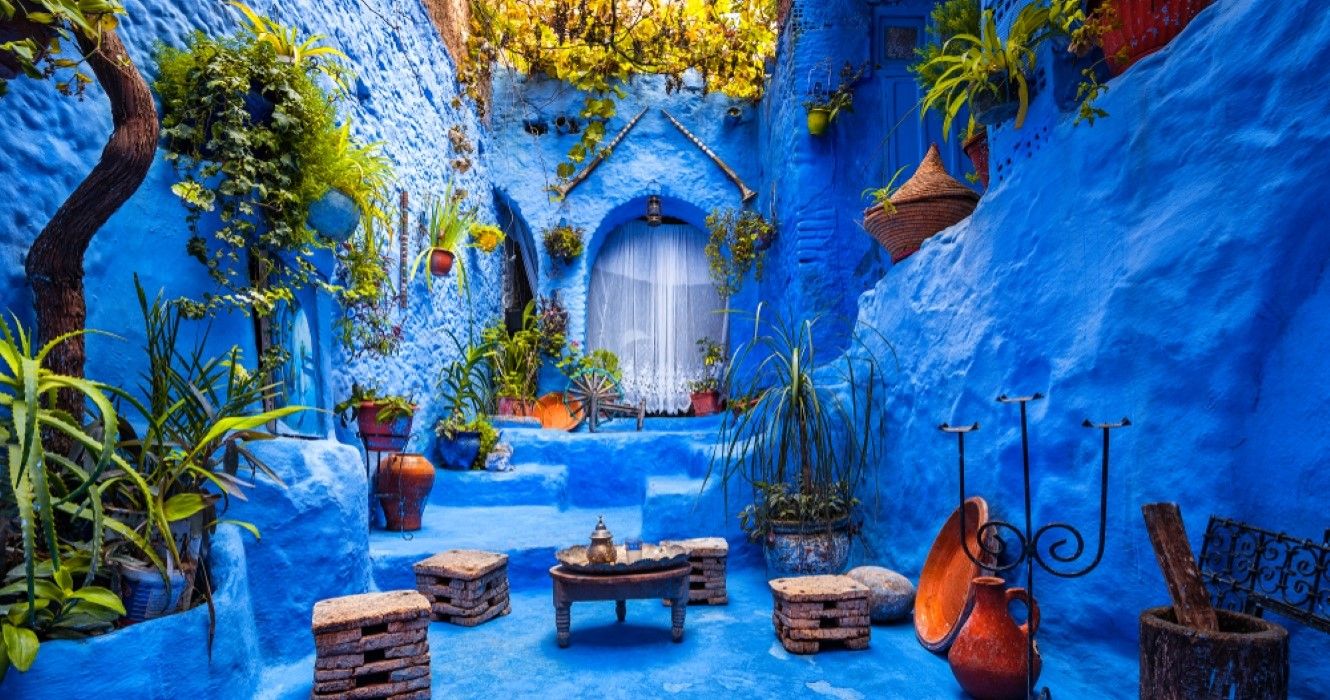 These under-the-radar spots prove there's more to Morocco than Marrakech
Often the first place people think of when they hear the word "Morocco" is the beautiful and bustling city of Marrakech, and for good reason. One of the most visited sites in all of Morocco, the city is a brimming joy of color, history and religious significance that is only highlighted by its bustling medina and crowded, brightly colored streets. Brimming with singular sights and sounds, Marrakech is a UNESCO World Heritage Site and an important cornerstone of the Muslim world whose culture, heritage and beauty still resonate to this day.
However, despite its must-visit status, beautiful Morocco has so much more to offer than its most famous city: small towns and villages dotted across the mountains and desert countryside that have a quaint charm all their own; and offer visitors a less touristy insight into what makes Morocco so magical.
RELATED: Here's Where to Stay When Visiting Marrakech in 2022
Rabat: history, modernity and harmony in the Moroccan capital
The magical capital of Morocco Rabat is a must-visit for anyone looking to experience the perfect balance of deep historic tradition and culture, all against the backdrop of a modern, eco-friendly capital known for its plethora of green spaces. Here, lively and contemporary vibes coexist with cultural landmarks to create an exciting cityscape and a must-see Moroccan destination.
Where to stay: Sofitel Rabat Rose Garden; Riad Dar Rabiaa; Hotel Euphoriade; Riad Kalaa
Things to do: Kasbah of the Oudayas; Chellah Necropolis; Bouknadel Exotic Gardens; Hassan Tower
Eat outside: The Limonadier; Sa Caleta; Dar El Medina; ty peeps
Don't miss: Shopping in the Medina of Rabat
Draa Valley Desert Expeditions in Zagora
Located at a busy desert crossroads, Zagora was a nomadic outpost for centuries and is still a popular meeting place for travelers to this day. However, Zagora is more than just a stop on the road to the nearby dunes of Erg Chigaga; but it's more of a beautiful oasis on the edge of the Sahara with a crossroads culture of its own. Its location in the center of it all also makes it easy to explore the other nearby villages of the Draa Valley.
Where to stay: Kasbah Sirocco; Riad Marrat; Riad Dar Sofian; Camp at the Auberge Palmeraie d'Amezrou
Things to do: Zagora Souk (market); Expedition to Erg Chigaga (by camel or 4×4); Walk through the palm groves; Visit the Museum of Arts and Traditions of the Draa Valley
Eat outside: Restaurant Marwa; Villa Zagora; Riad Lamane Zagora; Garden Restaurant Chez Ali
Don't miss: the colorful street art of Zagora; the ancient rock carvings of the surroundings Shyness
Max and relaxation in Mirleft
The laid-back, down-to-earth town of Mirleft is the perfect place to relax and enjoy some of Morocco's best local vibes in this paradise for travelers and artists. A great place to sunbathe, socialize and admire breathtaking coastal views, Mirleft is also known for its stellar surfing scene and cool, cosmopolitan vibes that are found through its arched doorways and charming streets.
Where to stay: Hotel Abertih Mirleft; Dar Najmat; Aftas Trip Water Lodge & Spa; Aman House
Things to do: The best of the beach: Mirleft, Marabou, Atlas and Plage Sauvage are all the best places to enjoy the sand, sun and sea spray; max and relax at the Hammam Le Jardin d'Orient
Eat outside: Tifawin Cafe; Restaurant Ayour; Cafe Aftas; Woodstock Restaurant
Don't miss: Take a surf lesson at Biscou Surf School
RELATED: 10 Charming Things To Do In Essaouira, Morocco
Moulay Idriss: holy place and natural sanctuary
A sea of ​​pristine white buildings and winding, painted rocky lanes await visitors to the holy city of Moulay Idriss. Once closed to non-Muslims, this picturesque spiritual haven is rapidly gaining popularity as a tourist stopover due to its proximity to cities like Fez. However, there is still a bit of a Moroccan gem under the radar that is definitely worth a visit. due to its beautiful green mountain scenery and its reputation as one of the most visited pilgrimage sites in the country.
Where to stay: Dar Zerhoune; Kasbah Senhaji; Diyar Timnay; The White Dove
Things to do: Mausoleum of Moulay Idriss; Large and Small Terraces (panoramic viewpoints); Cylindrical minaret of the Sentissi mosque; Haroune Aqueduct
Eat outside: Scorpio House; Restaurant in Dar Zerhoune; Volubilis
Don't miss: The Roman ruins and the thermal baths of Volubilis (45 minutes from the city)
The beautiful blue city of Chefchaouen
Say that the village of the Rif mountains of Chefchaouene This picturesque is an understatement of epic proportions – sandwiched between dramatic mountain peaks, this northern Moroccan spot really stands out due to its bright blue buildings that burst with raging seas and sky-colored glory. Although the city's medina was once off-limits to all Westerners, it has since become a notable tourist spot. mostly because of its laid-back vibes and IG-worthy photo ops around every corner.
Where to stay: Riad Hicham; Dar Meziana; Lina Ryad & Spa; Hotel Parador
Things to do: Kasbah Museum; Hiking in the Rif mountain; Panoramic views of the Spanish Mosque; Stroll through Chefchaouen's souks (markets)
Eat outside: Restaurant Bab Ssour; Hisham Restaurant; Coffee clock; Sofia
Don't miss: There's a surprise around every corner for visitors who stroll through the village to capture its blue-hued glory – the streets are quiet, beautiful and a feast for the eyes
More must-see small towns in Morocco
For those looking for even more small-town wonders, there are plenty of charming spots just waiting to be explored. Below are some of the best to add to any Moroccan itinerary.
Asilah This charming fishing village exudes a typically Mediterranean atmosphere. Admire the charming Medina; visit the port of Assilah; or visit the Church of San Bartholomew.
Oukaimeden may be Morocco's only ski resort, but during the summer months it becomes a great place to start exploring the Atlas Mountains, the Three Valleys and a parade of nearby waterfalls. A must stop for outdoor enthusiasts
Imlil is only two hours from Marrakech, but its elevated location (over 5,700 feet high) in the Aït Mizane Valley makes it feel like halfway around the world. A truly relaxing and tranquil retreat, it's also an idyllic base for those wanting a guided hike to Mount Toubkal or the Atlas Mountains – and the nighttime stargazing is breathtaking too
RELATED: 8 Most Exciting Things To Do In Boumalne Dades, MoroccoMorocco's small towns and villages may not be as famous as their big city cousins ​​- after all, places like Fez and Marrakech are known the world over for their larger-than-life atmosphere rich in culture, heritage and religious significance. However, these under-the-radar spots have a charm of their own – from scenic vistas to bustling souks; Outdoor activities with local flavors, these small towns are the perfect way to explore memorable Morocco beyond the borders of famous Marrakech.