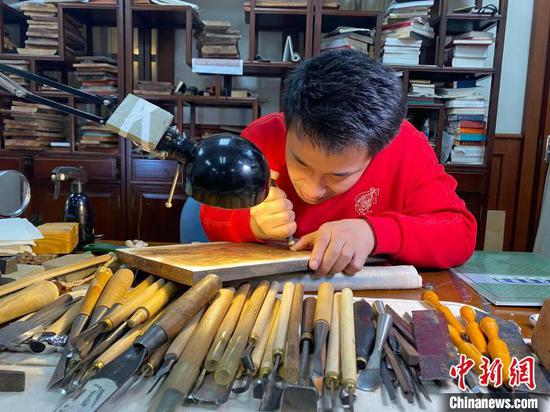 Young Shandong engraver reproduces ancient Chinese New Year paintings
Li Zhenhao makes New Year paintings via engraved block printing. (Photo/Chinese Information Service)
(ECNS) — A young craftsman in Shandong has reproduced a tiger-themed New Year painting of the Qing Dynasty (1644-1911) through block printing, an intangible cultural heritage in China.
Li Zhenhao has been engaged in engraved block printing for more than a decade. He apprenticed with Chen Yi, a national heir to craftsmanship in China, and officially began his career.
"It is not easy to persist in this craft. You have to sit down for a long time. You have to think carefully before you start carving, and it often hurts your hands. In addition, there are hundreds of carving methods. You have to choose suitable methods according to the types of Chinese characters and carving materials," Li said.
Originating in the Tang Dynasty (618-907), engraved block printing greatly reduced the cost of producing books, accelerated the dissemination of information and knowledge, and promoted the development of social civilization.
China's engraved block printing was listed as Intangible Cultural Heritage by the United Nations Educational, Scientific and Cultural Organization (UNESCO) in 2009.
With the rise of modern printing technology, this craft enters an awkward position without heirs.
Li continued to innovate by creating a series of engraved prints including invitations, stationery, keepsakes, and more. He also launched a training to promote this ancient and charming craft online.
In addition to attracting collectors and engraved block printing enthusiasts, activating and using this craft based on protection and inheritance is also necessary to pass on this globally recognized human cultural heritage, Li said.
"This is my first year creating New Year paintings by engraved block printing. I also plan to do a series of Chinese zodiac works," he added.