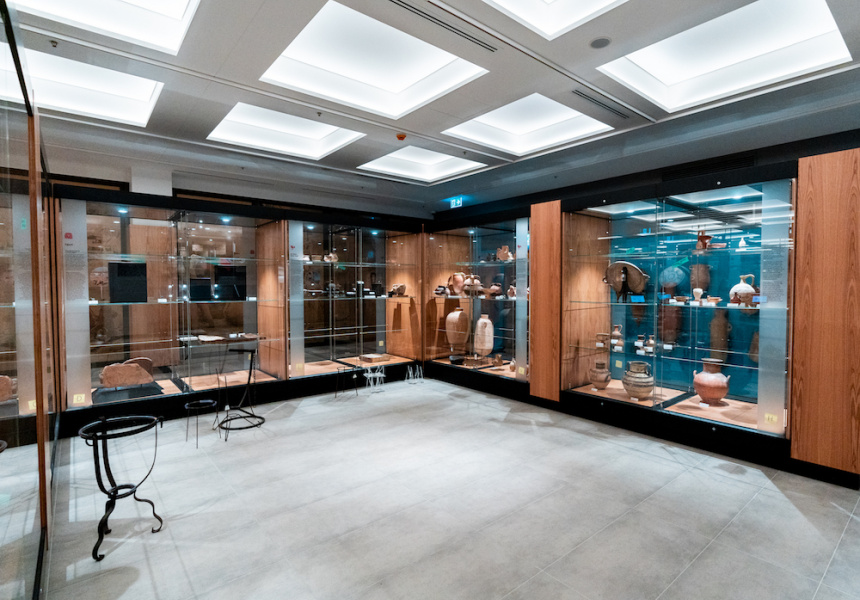 A new history museum in Sydney – with over 18,000 historic objects
For more than 50 years, researchers at Macquarie University have quietly assembled a monumental collection of historical artifacts. Until now, these objects were presented, mainly for educational purposes, in two separate museums on campus: one devoted to Australian history and the other to ancient cultures, including Egypt, Greece and Rome. . But the university has now brought them all together under one roof in the new Macquarie University History Museum.
"Over the years these items have acquired a certain value, and it is not safe to have them in some kind of makeshift museum. So when the university built the arts district, they took the opportunity to build a museum dedicated to these collections," said Macquarie University Museum Director Martin Bommas. Large format. "The combination of the two collections has enabled us to create a museum of social history."
The new museum houses more than 18,000 objects – including the largest collection of ancient papyrus manuscripts and ancient glass in the Southern Hemisphere – although only 9% of the total collection is on display at any one time. There are more than 800 artifacts and archival documents related to Aboriginal and Torres Strait Islander history and cultures, as well as more original artifacts, such as a vacuum cleaner from the 1950s. "It's to show the advancement of technology in Australia and how technology really drives us," Bommas said.
There is also a 10 meter long exhibition devoted solely to the theme of cultural heritage. It shows how people from two very different parts of the world – Sydney and Nubia, a region in northeast Africa – lived in the 1880s. "We tried to find out via artifacts how people found different or similar solutions to challenges in their lives at the same time, but divided by more than 9,000 miles," Bommas says. "It's exciting because it was a time when people weren't in touch with each other – there was no internet or Whatsapp – but people still had to deal with similar threats and difficulties."
The museum is currently hosting its first temporary exhibit, East Meets West: The Crusades and the Age of Decolonization. It tells the story of a tumultuous but defining period of human history through exhibits such as a 13th-century copy of the Quran from Egypt's Mamluk period, which is displayed alongside a copy of the Bible from the XIV century. There are also "cross bowls" dating from the 12th and 13th centuries which feature shades of electric green and the remains of barnacles, having been recovered from shipwrecks.
"They're just talking about history," Bommas says. "The Crusade was a pivotal time in history; it happened [for] almost 200 years between 1095 and 1301. It was based on a jihad, a religious war provoked… by the Catholic Church. After this period of time, people were so fed up with the Vatican that it was the beginning of nation-building and no-religion concepts. And despite these wars, people came together… sadly it only lasted 50 years before the plague hit and then everything fell apart.
Throughout the museum are also Bommas' personal favorites: 3D-printed versions of repatriated objects in Ferrari red. "While the originals are back in Italy or Egypt, we keep these plastic objects and they are like red flashes all over the museum," he says.
The Macquarie University History Museum is located at 25C Wally's Walk, Macquarie Park, and is open Monday through Friday, 10 a.m. to 5 p.m. The exhibition East Meet West: The Crusades and the Age of Decolonization is on view through September. Free entry.
mq.edu.au