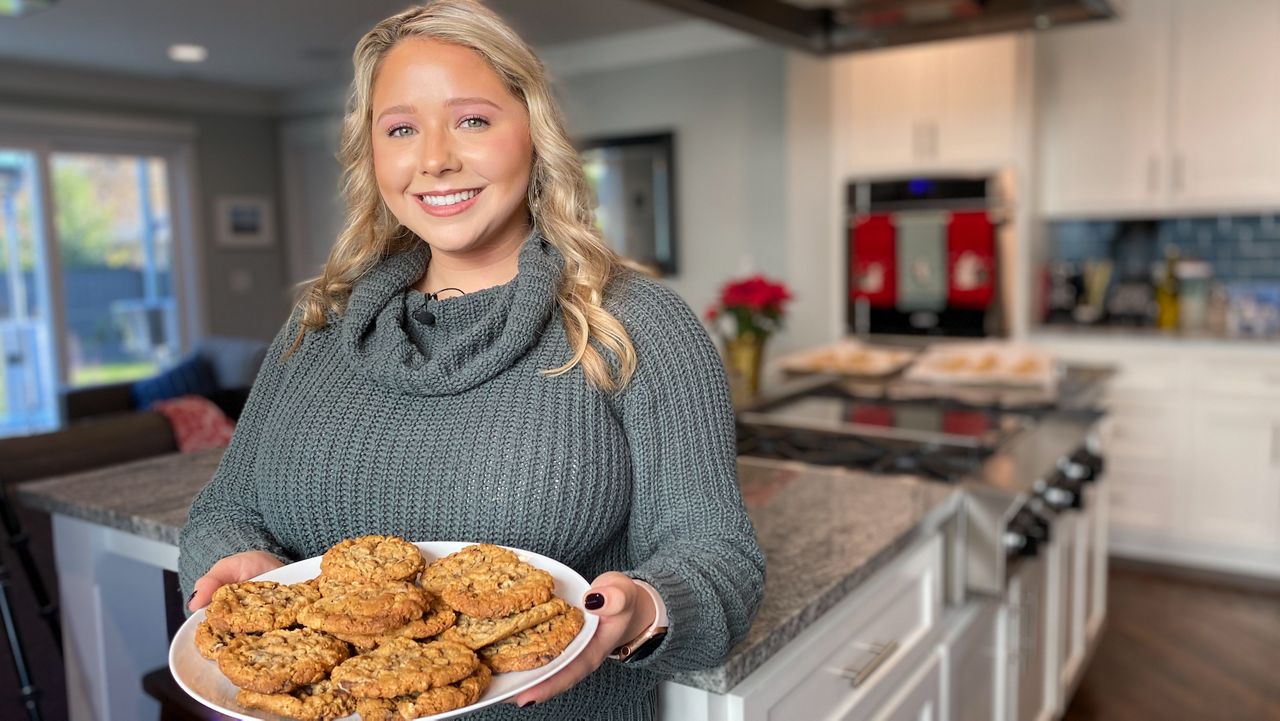 Healthy holiday dishes without sacrificing flavor
[ad_1]
CHARLOTTE, NC – The holiday season is often filled with sugar cookies, eggnog and other indulgences. But too much of a good sweet or savory dish can pose a health risk.
A dietician explains how to replace the ingredients without losing the flavor.
What would you like to know
Kimberly Spatola, Registered Dietitian at Novant Health, says oatmeal is a good substitute for white flour because it is higher in protein and fiber.
She suggests using ground turkey instead of ground beef because it is less caloric.
Butter from grass-fed cows is usually at the top of her grocery list. She said this butter has more healthy fats than regular butter
Kimberly Spatola grew up in Kentucky and cooking was a big part of her childhood. During the holidays the kitchen was usually stocked with all kinds of baked goods and other dishes.
"Lots of butter, sugar, olive oil, but also frying pan and things like that," Spatola said. "There wasn't a ton of fruit or veg or things like that."
But when she was a teenager, tragedy struck their family.
Her father died of a heart attack. Spatola is an only child and says it was extremely hard on her and her mother.
"It was all very sudden," Spatola said. "I still love to cook and still do, but it made me want to be a little bit healthier for chronic disease prevention."
That's why she decided to become a registered dietitian. She began to create recipes that were good for the waist and the heart. One of her favorite holiday candies are the mint oatmeal cookies, which she makes with oatmeal instead of white flour.
"Oatmeal is a whole grain, so you'll get more fiber, B vitamins, and nutrients than refined white flour," Spatola said.
She also used butter from grass-fed cows.
"It has more healthier fats than if you just bought traditional butter at the grocery store," Spatola said.
Spatola says she often thinks of her father, a chemistry teacher, when she cooks.
She also liked the subject and combined it with cooking.
"A lot of the food shows we watched growing up were about food science," Spatola said. "I've learned to combine the ingredients so that they always taste great while being as nutrient dense as possible."
It might take a few extra steps, but Spatola says it's worth it.
RECEIPTS:
Oatmeal cookies
20 cookies
Ingredients
• 1 ¼ cup of oatmeal
• 1 teaspoon of cinnamon
• ½ teaspoon of baking soda
• ½ teaspoon of baking powder
• ½ teaspoon of kosher salt *
• ½ cup Kerry Gold butter, unsalted
• ¾ cup packed brown sugar
• 2 teaspoons of vanilla extract
• 1 egg, room temperature
• 1 ½ cup old-fashioned oatmeal
• ½ cup of chocolate chips or raisins (optional)
directions
1. Preheat oven to 375 degrees F. Line two cookie sheets with parchment paper; put aside.
2. In a medium bowl, whisk together oatmeal, cinnamon, baking soda, baking powder and salt.
3. In large bowl, using a hand mixer or stand mixer fitted with a whisk, beat butter and brown sugar together on medium to medium-high speed. Mix the cream mixture until it has cleared considerably and is very foamy. Add the vanilla and egg and beat over medium-high heat. Scrape down sides of bowl and beat again if needed to combine.
4. Add the dry ingredients to the wet ingredients and mix over low heat until just combined.
5. Using a spatula, stir in oatmeal and chocolate chips / raisins (if using).
6. Take 2 tablespoons of cookie dough and form balls. Place on a cookie sheet, about 2 inches apart.
7. Bake for 8 to 10 minutes or until edges just begin to turn golden. The center of the cookie should look very soft and gooey.
8. Let the cookies cool on the baking sheet for 5 minutes before transferring them to a wire rack to cool completely.
White Turkey Chili
6 servings
Ingredients
• 2 tablespoons of olive oil
• 1 medium onion, diced
• 4 garlic cloves, chopped
• 2 x 4 oz cans of diced green peppers
• 32 ounces. unsalted chicken broth, divided
• 1 ½ teaspoon of cumin
• 1 teaspoon of coriander
• 1 teaspoon of paprika
• ½ teaspoon of dried oregano
• ½ teaspoon of black pepper
• 8 ounces. Neufchâtel cream cheese, softened
• 2 (15 oz) cans of low sodium cannellini beans, drained and rinsed
• 1 cup of corn, frozen
• 2 ½ cups leftover turkey breast, cut into bite-size pieces
• ¼ cup cilantro or parsley, chopped
directions
1. Heat olive oil in a 6 quart Dutch oven over medium-high heat. Add the diced onion and sauté for about 5 minutes, or until the onions are golden around the edges. Add the garlic and sauté for about 1 minute more.
2. Add the green peppers and sauté 1 to 2 minutes more. Lower the heat to medium and add half the chicken broth and all the spices. Let it be for now.
3. In a blender or food processor, combine the reserved half of the chicken broth with the cream cheese and 1 cup of the drained cannellini beans until completely smooth. Add the mixture to the pot, along with the rest of the beans, corn and turkey breast. Simmer the mixture for at least 20 to 30 minutes.
4. Garnish with chopped cilantro or parsley.
5. Serve with avocado slices, 2% Monterey Jack cheese and whole grain tortilla chips.
Ingredient substitutions:
For a vegetarian chili, use unsalted vegetable broth and firm tofu, if desired.
Roasted chicken breast can be easily replaced as an alternative.
[ad_2]