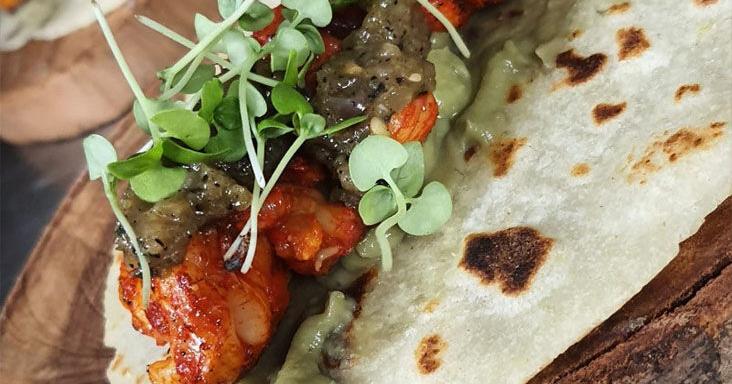 A modern take on the Trini kitchen | Local Features
WHEN Marlon Timothy gets creative in the kitchen, he goes beyond trying different cooking styles. The head of research and development is a culinary scientist who combines good taste with good science to produce eclectic cuisine. Timothy is one of the emerging chefs at the popular fusion restaurant, 12 by Rishi, located in Arima.
"I am responsible for conducting research into the roots of local food going back as far as we can trace. We then look at the composition of the dish and then reshape it according to our vision," Timothy said in a recent interview with the Express.
When it comes to creating his meals, the concept of 12 by Rishi is the perfect springboard for the budding chef to express himself. "I really like working at 12 by Rishi because it's such a positive space to be creative and try out new ideas and concepts. At 12 by Rishi, we take a modern and progressive approach to timeless local cuisine. It is a chef's table that offers a tasty multi-course menu ranging from 9 to 15 dishes.
He added: "Being a young chef, working at 12 by Rishi, gave me the opportunity and understanding to see food in a new light and that there are no boundaries as to what you can create locally and internationally."
Timothy, 27, realized he loved cooking around the age of eight when he tried to make his own Mother's Day breakfast. He earned an associate's degree in food management from the Trinidad and Tobago Hospitality and Tourism Institute (TTHTI) in Chaguaramas, but for the most part is self-taught.
"Because I fell in love with cooking at such a young age and was obsessed with food webs, I taught myself knife techniques and discovered different cuisines. As a person diagnosed with clinical depression, food helps me stay centered and grounded, and cooking and experimenting in the kitchen is a way for me to be creative and express myself," he said.
While the chef appreciates the food trends unfolding around the world, he worries that up-and-coming chefs don't have the opportunity to explore these exciting trends. "Internationally, one food trend I've noticed is Asian cuisine becoming more and more common. But locally, we have noticed that talented young chefs do not have the opportunity to present the modern cuisine of Trinidad and Tobago, because the older chefs are not willing to deviate from their habits," a- he declared.
As Timothy goes through different phases of experimentation, he tries to perfect certain dishes. "I would say my specialty is Trinbago cuisine, one of the most eclectic cuisines in the world. However, I do good authentic Mexican, Indian and Japanese food.
He added: "What we always tell your guests is that food is a language of love. Seeing the joy a dish brings to guests as they eat our food and experience food that takes them back to their childhood is what I love most about being a chef ", did he declare.
Timothy can be found on Instagram at chef_marlo_86. For more information about 12 by Rishi, visit 12_by_rishi on Instagram.