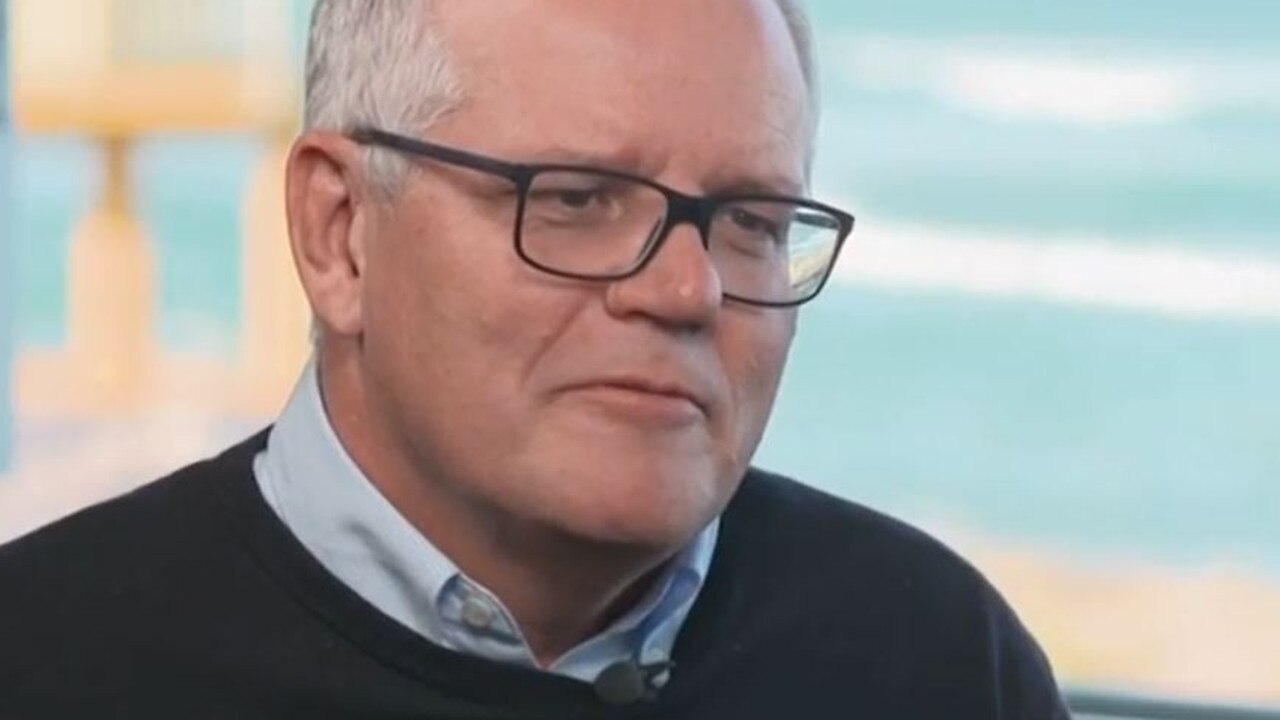 Scott Morrison opens up about mysterious future plans in an interview with Sky News
Scott Morrison has laid out his plans to ignore haters, earn money from part-time gigs and play more golf as he readjusts to life as a backbench MP in a revealing interview.
During a freewheeling chat while enjoying a beer with Sky News host Paul Murray at the Wanda Surf Club, the man who is still claiming $211,250 from taxpayers revealed he hopes to improve his handicap at golf.
Mr Morrison took a brutal pay cut when he lost the 2022 election, with his earnings dropping from $500,000 to $211,250.
"I look forward to continuing to be a really effective local MP," Mr Morrison said.
But then he hinted there would be more mystery part-time jobs that might even involve his new passion – golf.
"You know, I'll do a bit more stuff, maybe, you know, in addition to my parliamentary responsibilities, which a lot of MPs do," he said.
"I started playing golf again. I hadn't taken over a club for about 15 years. I kinda caught the bug.
Stream Paul Murray live on Flash, Sunday through Thursday at 9 p.m. AEDT. 25+ news channels, 1 place. New to Flash? Try 1 month free. Offer ends October 31, 2022 >
Mr Morrison recently flew to Japan at the invitation of a Japanese billionaire, Dr Handa Haruhisa, who also sponsors golf tournaments.
Dr Handa previously had a contractual relationship with former Prime Minister Tony Abbott.
Mr Morrison, who faces a judicial inquiry into his decision to secretly appoint himself to several ministerial portfolios, recently updated his register of financial interests in Parliament.
He reveals he received an undisclosed amount of cash and received free business class flights to Tokyo and luxury accommodation when he skipped the first week of parliament in July.
Mr Morrison also solicited his 'misunderstood' text message in which he said he no longer engaged in 'day-to-day politics'.
The former prime minister, who has previously been accused of leaking his own text messages to French President Emmanuel Macron, texted Sky News chief presenter Kieran Gilbert about the multi-department scandal, which then went on to been broadcast.
"I didn't see what he said. Since leaving office I have not engaged in any day-to-day politics,' Mr Morrison said in the text, referring to Prime Minister Anthony Albanese.
Mr Albanese later said the comment was 'not acceptable' given Mr Morrison was still in Parliament.
Mr Morrison said he understood why some voters were "upset to see this".
"I want to look after my local community and do this job every day, what I don't want is to engage in the back and forth of the political circus," Mr Morrison said.
He claimed the journalist had "agreed" that the text message, sent in relation to his ministerial takeover, was meant to be private.
Asked about the investigation into his conduct by former High Court judge Virginia Bell, he replied that "most people can see through these things".
"I'm definitely not going to get bitter about it. People can see through these things," he said.
"I said what I had to say on the matter. Especially on the ministries. It was an incredibly tumultuous time.
Sky News' Paul Murray then said he had spoken "to a group of people who didn't vote for you" and they had "a few questions".
"They say, 'Why didn't you say sorry? Why didn't you say sorry loud enough? Why didn't you donate a pint of your blood? said Murray.
Mr Morrison said he explained the situation and did not expect everyone to agree with him.
"At all times I was trying to do my best for the country," he said.
Read related topics:
Scott Morrison