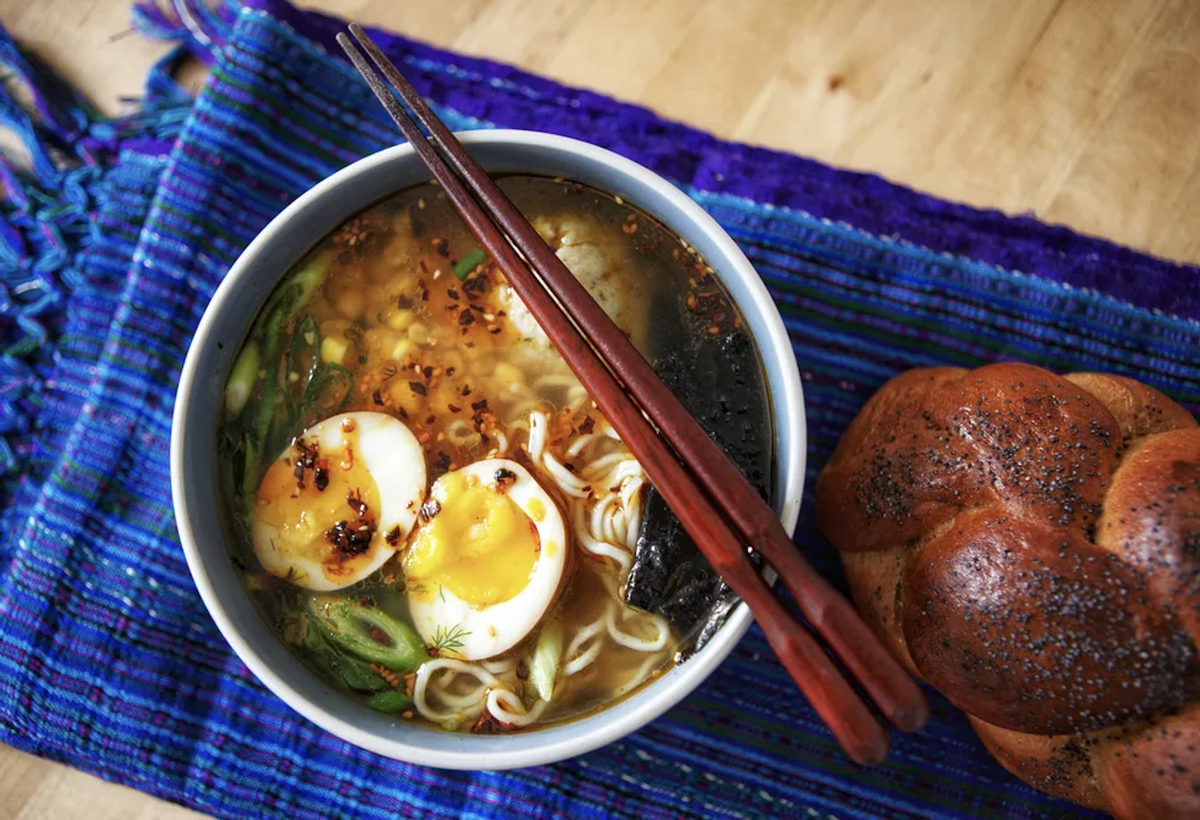 The comforting fusion of matzo ball ramen
I rushed into Shalom Japan in Williamsburg, Brooklyn on a stormy Friday night. It was dimly lit inside and had all the vibe of a laid back Japanese ramen joint. Inside the bathroom was a zoomed-in photo of a Levy's Jewish Rye 1960s pub, which read "You don't have to be Jewish to love Levy's real Jewish rye" in big black letters, with a picture of a Japanese boy in a white shirt and red tie holding his sandwich next to an open bag of Levy's Jewish Seigle.
There were only a handful of tables. I took a seat at the bar with a clear view of the kitchen to my right. A native New Yorker I had met in Berlin was in town at the same time and joined me. I saw chefs Aaron Israel and Sawako Okochi busy at work and turned my attention to the menu, giving it a quick peek. But we both already knew we were getting the matzo ball ramen soup. How could we not?
Matzo Ball Ramen Soup: Sounds like forced fusion, doesn't it? But in fact, it does make sense. Matzo balls are chameleons from the soup world. They can just drop into a bowl without crushing the party. Chefs and husband-wife duo Aaron Israel and Sawako Okochi combine their Ashkenazi Jewish and Japanese origins for a hot, bubbling bowl that makes perfect sense.
Historic Jewish cuisine reflects the well-known history of the persecution. Jews prepared dishes similar to those of their neighbors, with religious Jews adapting the recipes to make them kosher. When they were kicked out of the city by a new royal decree, they would take their recipes, move elsewhere, and start mixing their food with that of their new neighbors.
But what's happening at Shalom Japan is something different. Matzo ball ramen was not born out of persecution, but out of love. We can see it more and more in the Jewish culinary world. In many ways, Jewish food is evolving on its own terms for the first time in history, and dishes like Shalom Japan's matzo ball ramen are a celebration of that freedom.
Shalom Japan uses chicken broth with char siu chicken, green onions and nori as the base for the soup. For a little extra, you can get a soy marinated egg, foie gras balls, or an extra matzo ball. Although basically vegetarian in my own kitchen, I tend to have unique experiences when I travel. So I decided to opt for the foie gras balls, and the soy-marinated egg was already obvious.
After some slurpy noodles from the steamy bowl of ramen, one of the waiters stopped by and asked us how we like matzo ball ramen and if we had ever had any before.
"I've had ramen and matzo dumpling soup before," I nodded. "But not together."
"For someone who is not Japanese or Jewish, it makes sense to me," he said, clearly smiling behind his mask.
Back in Berlin, I tried my own matzo ball ramen, and everything went well. There was the earthy side of the vegetable broth, along with carrots, celery, turnips, parsley, onions and dill: some of the building blocks of so-called Jewish penicillin. I added corn and chopped green onions, following the example of Shalom Japan. With the noodles, I started to orient myself towards Japan, as they were different from the larger egg noodles, more typical of Ashkenazi Jewish cuisine. Then I went full of ramen with the soy marinated boiled egg cut in half and left on top, with the egg yolk still oozing out.
Shalom Japan throws garlic chili oil on top, so feel free to use your favorite brand or create your own. Drizzle some soy marinade over the pan, along with its chili pepper flakes, also helps bring it all together. (Oh, and I slipped a little sheet of nori out the side just to be whimsical, I guess.)
Ultimately, one of the best things about this dish is that you can easily make it yourself, to tell your own story. Use your own recipe for darling broth and matzo balls. Try to jump between Ashkenazi Jewish and Japanese staples, like dill or miso. Bring it to break your Yom Kippur fast, to serve with Passover leftovers, or just to make a boring Saturday night special.
***
Recipe: Ramen matzo ball
Preparation time: 2 hours
cooking time: 2 hours 30 minutes
Serves: 6 to 8
Ingredients:
Vegetables soup
1/4 cup olive oil
3 large onions, cut into wedges
6 to 8 garlic cloves, chopped
3 carrots, cut into large pieces
3 stalks of celery, cut into large pieces
1 large parsnip, peeled and cut into large pieces
1 tablespoon of garlic powder
1 tbsp onion powder
1 teaspoon of smoked paprika
1 teaspoon of ground turmeric
1/2 bunch of fresh dill
1/2 bunch of fresh flat-leaf parsley
3 dried bay leaves
2 teaspoons kosher salt, or to taste
1/4 teaspoon freshly ground black pepper, or to taste
eggs, matzo balls and assembly
5 large eggs
4 garlic cloves, finely chopped
1/4 cup soy sauce
1 tablespoon of mirin (sweet Japanese rice wine)
2 teaspoons of rice vinegar
1 teaspoon crushed red pepper flakes
1/4 teaspoon smoked paprika
1 cup (125 grams) matzo flour
1/4 cup unsalted butter, melted or schmaltz
1 tablespoon finely chopped fresh dill, plus more for serving
1/3 cup seltzer water
Kosher salt
300 to 400 grams of dried ramen
Toppings, such as corn, green onions, nori, menma, bean sprouts, pickled ginger, spinach, mushrooms, narutomaki, and / or garlic and chili oil
instructions
Vegetables soup
In a large saucepan over medium heat, heat the oil. Cook the onions and garlic, stirring occasionally, for about 10 minutes, until softened and lightly browned.
Add the carrots, celery, and parsnip (you'll reuse them later and cut them into bite-size pieces, so make sure the pieces are big enough that they're easy to remove from the broth later). Add the garlic powder, onion powder, paprika and turmeric. Tie the dill and parsley with kitchen twine and add them to the pan with the bay leaves. Add 12 cups of water. Increase the heat to high and bring to a boil. Reduce the heat to medium, partially cover the pot and simmer, stirring occasionally, for 60 to 90 minutes, until the liquid has reduced by about a third.
When the broth is ready, transfer the celery, carrots and parsnip to a cutting board. Strain broth through a fine mesh sieve into a large bowl; discard the solids. Wipe the jar. Return the broth to the pot; Season with salt and pepper.
Cut the carrots, parsnip and celery into bite-sized pieces and return to the pot. Taste and adjust the seasoning.
Go forward: The broth can be prepared up to 1 week in advance. Store in an airtight container in the refrigerator.
eggs, matzo balls and assembly
Marinate the eggs: bring a small pot of water in a low bowl over medium-high heat. Lower 2 eggs into the saucepan and cook for 7 minutes. Using a skimmer, transfer the eggs to a bowl of ice water and let cool for 2 minutes (you can also run them immediately under cold water). Peel the eggs.
Meanwhile, in a large pot, bring the garlic, soy sauce, mirin, vinegar, red pepper flakes, paprika and 2/3 cup of water to a boil. Reduce the heat to medium-low and simmer for 5 minutes.
Transfer the marinade to a heatproof bowl. Add the eggs and marinate for at least 1 hour. You can also cover the bowl and store in the refrigerator for later use.
Go forward: Eggs can be marinated up to 2 days in advance. Keep cool.
Make the matzo balls: In a medium bowl, combine the matzo flour, butter, dill and the remaining 3 eggs until smooth. Slowly pour in the seltzer water and continue to mix until incorporated. The mixture should look like a paste. Cover and refrigerate for about 1 hour, until chilled.
Bring a large pot of salted water to a boil. Wet your hands and scoop out some of the chilled matzo ball mixture. Roll to the size of about a golf ball until smooth. Wet your hands quickly each time to prevent the mixture from sticking to your hands. Using a skimmer, gently immerse the balls in boiling water. (This recipe makes 7 or 8 balls of matzo, and my large pot could hold them all.) Reduce heat to low, cover and simmer for about 1 hour, until cooked through and fluffy.
Remove the pan from the heat and set aside, covered. Let the matzo balls sit for another 10 minutes.
Assembly: If you're doing all of this at the same time, bring another large pot of water to a boil. Cook the ramen according to the package directions, then drain them.
Take about a cup or ladle of salted matzo ball water, pour it into the broth and mix. Fill a serving bowl with the broth, making sure to add a good mix of vegetables. Add one of the matzo balls and a handful of ramen.
At this point, you can get creative with the toppings or keep it simple. I included corn, sliced ​​green onions, and a small sheet of nori to reflect what I remember from Shalom Japan. Cut the soy marinated eggs in half and place them on top. Sprinkle with chopped dill, season with salt and drizzle with a little garlic and chili oil or spicy soy marinade.