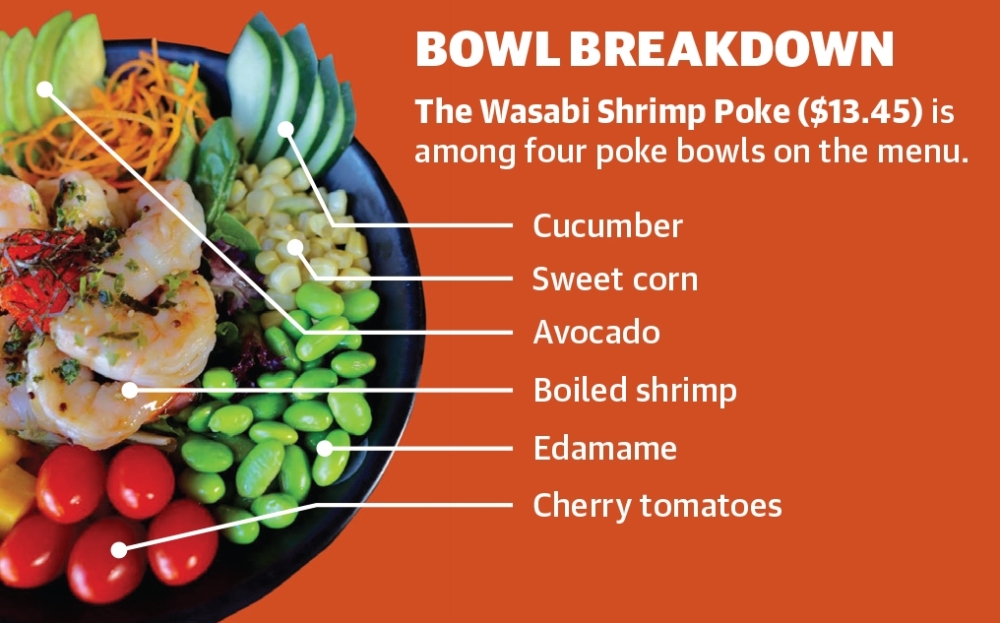 Local Restaurateur Brings Taste of Japan to New Caney with Airi Poke & Ramen
Wasabi Shrimp Poke ($ 13.45) is one of four poke bowls on the menu. (Courtesy of Airi Poke & Ramen)
Growing up in Fuzhou, China, Leo Cai noticed a trend in his hometown.
"A lot of people used to eat out in America," Cai said. "For now, if you go to a Chinese or Japanese restaurant, [the owners] are mostly from my hometown.
Following in their footsteps, Cai can now be counted among the natives of Fuzhou who ventured to the United States to create their own business; Cai moved to the US in 2010 and opened Airi Poke & Ramen in New Caney in 2018. Two years later he opened a second location in Cypress, and he also plans to open a third in Baytown in February.
The restaurant offers traditional Japanese and Asian-inspired dishes, all prepared entirely on site with fresh ingredients, Cai said.
Despite opening three restaurants in less than four years, Cai said the restaurant business has not been without challenges.
"A lot of customers have complained, 'Hey, your food isn't good. I don't like it, " 'said Cai.
Taking this review to heart, Cai traveled to Japan to study the intricacies of making ramen from scratch. He said it didn't take his customers long to notice the difference in quality, which prompted Cai to return to Japan the following year to focus on appetizers.
Today, some customer favorites are the spicy tuna poke bowl, miso soup and beef ramen, Cai said.
Like most restaurants, Cai said Airi Poke & Ramen has been hit hard by COVID-19; however, he said it opened his eyes and his heart in New Caney as well.
"COVID, let me know that if you want to do good business you have to be there for your [community]"he said, noting that he sets aside 1% of sales each month to donate to local nonprofits."[The community] is almost your family. You are the. You are a member. If they are doing something for us, we have to do something for them.
Airi Poke & Ramen
21372 highway. 59, Ste. 300, New Caney
281 354-8900
Hours: Sat.-Wed. 11 am-9:30pm, Thu-Fri 11 am-10:30pm