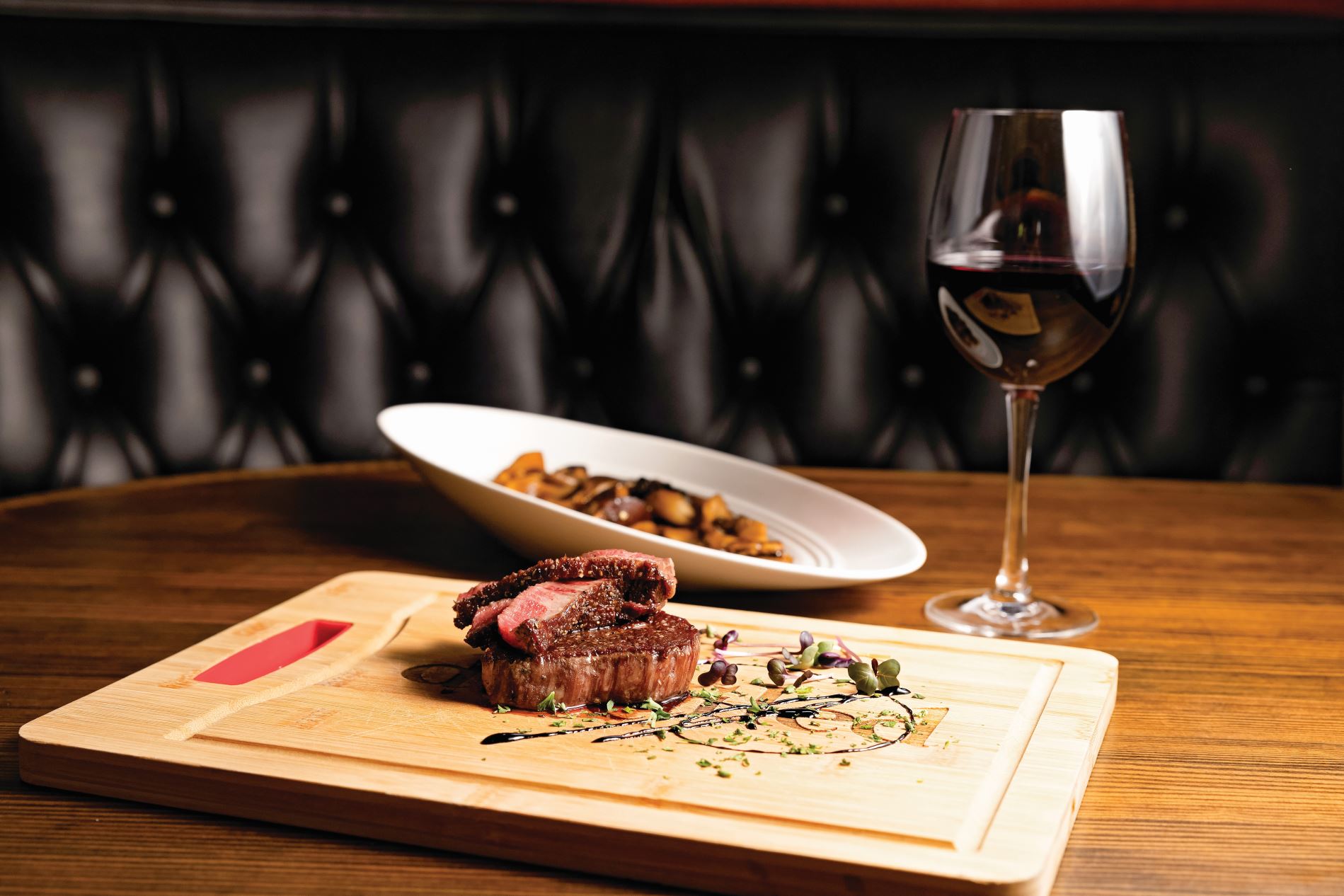 The Railed Experience | idahofallsmagazine.com
BY ANNIE CARBUTT PHOTOS BY JOSHUA GULIZIA
FEW PEOPLE REALIZE THE PREMIUM OFFERS AVAILABLE IN IDAHO FALLS when it comes to fine dining. If you're looking for a truly gourmet meal, nothing takes it to a higher level at D'Railed. The gastropub is housed in a former 1800s Union Pacific railroad dormitory at 468 N Eastern Ave., directly across from the tracks. Chef Jay Drahota opened D'Railed in 2010 with the intention of providing "the best meal of your life" to locals. "Normally when someone goes looking for the best possible meal, they think of Las Vegas or New York," Jay said. "I thought, why not Idaho Falls?"
As Jay's reputation grows, so do his aspirations. He now seeks to provide the best dining experience not just in Idaho or even the United States, but in the world. He strives to achieve this by using only the most premium ingredients, no matter the expense. In terms of beef, that means importing from distant countries like Japan and Australia.
Jay often tells customers that an Australian Wagyu steak could very well be "the best steak you've ever had". For those who want to go even further and go Japanese Wagyu, "it will be a life-changing experience," he says.
Jay has worked hard to establish direct relationships with Japanese and Australian beef distributors. He is proud to offer such premium cuts to the Idaho Falls community.
"We have 14 cuts of beef, seven Australian Wagyu and seven A5 Japanese Wagyu," Jay said. "Even Michelin-starred restaurants may only offer two or three cuts of A5 Japanese Wagyu. If you compare our menu to Beverly Hills, ours is a better menu.
The search for premium products is not just limited to beef. D'Railed also offers the highly sought after Ora King Salmon, imported directly from New Zealand. Ingredients like imported Japanese wasabi (grated fresh to order) and Rogue River Blue cheese, which won the grand championship at the World Cheese Awards in Bergamo, Italy, are also among the ingredients that line D'Railed's plates each day.
Produce is purchased fresh daily and handpicked for the best quality, with some items like microgreens delivered weekly from a small local supplier
"Cost is never the issue, only quality," Jay said. "We paid high prices without increasing our customers' bills so that we could provide the best possible experience."
After testing a tantalizing array of D'Railed menu items, the staff at Idaho Falls Magazine can certainly attest to the quality of these gourmet dishes. The first bite of Japanese Wagyu left us all speechless, to begin with. The tenderness and flavor was unlike any other steak we have ever had. The Ora King salmon also blew our minds. Perfectly buttery, smooth and flaky with the slightest hint of lemon, this is not your typical salmon.
We also enjoyed tender and crispy cauliflower wings, salty cheese curds with a delicious squeak, and jumbo coconut shrimp perfect for a great round of entrees.
Louis Avocado Salad surprised us with its delicious presentation and tangy, creamy flavors on crunchy greens. There really is no comparison in your typical salad selection.
For sides, we can't say enough about Fried Brussels Sprouts with their deep umami flavor and balanced sweetness. The mushroom trio was superb and the lobster fried rice was unique and delicious. To top it off, Romanhoff Potatoes were the essence of gourmet comfort food.
The cabernet red with its full-bodied black cherry and vanilla spice notes proved to be a perfect companion for the feast ahead, especially the steak. But in terms of presentation, the Candy Lemondrop mocktail really stole the show. Served in a martini glass with an almost mythical bubble the size of a softball, this spectacle caused oohs and aahs all around as the bubble burst and dropped a soft blanket of white mist over Table.
What struck us all was how fresh and perfectly presented each item was.
"Everything is made fresh to order," Jay said. "This means that if you order a dish with Béarnaise sauce, we prepare the fresh sauce for your plate. Nothing is kept warm, except the baked potatoes.
Jay explained that his staff must learn every process to perfection so that every dish is reproduced accurately, every time. This means that there are no "days off" at D'Railed.
"We only want the best for our customers," he said. "We see those who come back again and again, some who even fly here on private jets just for a meal at D'Railed. This is the kind of loyalty we seek, and we go the extra mile to make it happen.
The extra mile looks like a fresh rose to take home after your meal and adjustable ambient lighting for each table. On the outside, it looks like a red-brick patio with gas fireplaces and sleek scrolling white-letter neon signs.
"We want it to be a romantic destination and a place people come back to," Jay said. "It's the little things that help make this possible." Having experienced D'Railed for ourselves, we can say that the romance is real and it's a place we will definitely return to.
468 East Avenue North | 208-932-1082 | www.drailedid.com