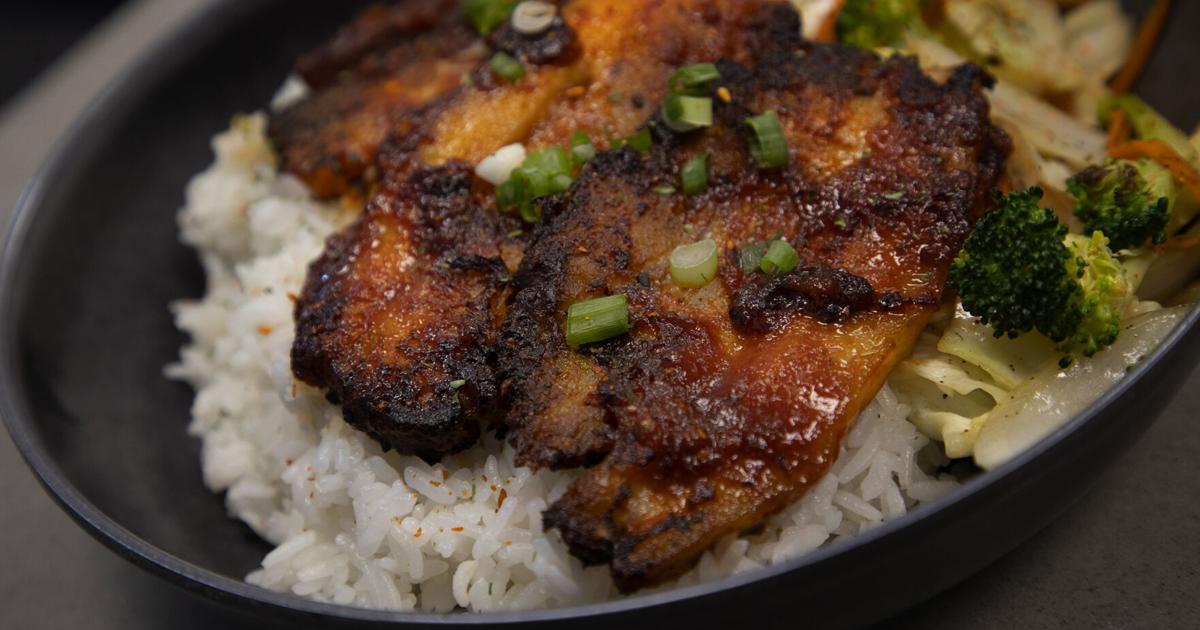 PETE TITTL: Most restaurants held on and we are all hopeful for the future | Food
[ad_1]
2021 is gone. At least it was considerably more appetizing than in 2020.
And we got back to normal a bit with first a lot of meals in the outdoor parking lot until the vaccinations took effect, the mask rules were relaxed and we had an outlet to 'get back to normal' As it will never happen.
Some restaurants were very strict on cleaning menus and wearing masks by staff, others less so, and some readers really wanted each column to detail the restaurant's position on these issues.
Things are a bit stricter in the south. While in a casual North Hollywood restaurant visiting family, I was warned to put on my mask while walking to the bathroom. And I have friends who always limit their exposure, not going out yet. I understand, but I'm also happy to walk past closed dining rooms that only require take out.
Tendencies
• Decent vegetarian menu choices are almost necessary as the number of people adopting or at least flirting with plant-based diets continues to grow. And while in the past we've seen awesome places like Vida Vegan Co. open, I have a feeling we'll see more restaurants like Guapo's Tacos, a humble White Lane fast-food restaurant offering exceptional vegan substitutions for chicken and with beef (as well as conventional Mexican meats). It only makes commercial sense. And expect to see more restaurants taking the route from the Shangri-la Asian Bistro & Bar, which has become the Asian Vegan Bistro in the Southwest, revamping the menu to serve up tasty vegan options like Thai Spicy Fried Rice with barbecue pork and spicy noodle soup with veggie potstickers.
• We have temporarily lost some restaurants due to the pandemic, but after the restrictions were relaxed, they reopened. Two we were happy to see return were Hodel's Country Dining, our all-time favorite buffet anytime of the day, and Sonder, which has both a sense of whimsy and a creative flair that is a welcome addition to our culinary scene.
• Another interesting resurrection occurred with Tina Marie's Downtown Cafe, whose building on Chester Avenue was destroyed by fire. Luckily, Chef's Choice Noodle Bar moved to a new location at The Marketplace and Tina Marie's was able to take back her old space on 19th Street, which was bigger and fancier than her old home. Sometimes life gives you gifts disguised as tragedies. It worked well based on our visits to the new location.
• J's Place, which closed after the chef / owner passed away, came back in force as Mom's House, with the team and the original owner from when it was located on Ming Avenue before. to relocate to the Rosedale Freeway. From the start, the old customers were back. There is always an amazing plate of fried catfish.
And after the Noriega Hotel closed, the new owners bought the name, recipes, and brought the kitchen team to the old Cafe Med Stockdale highway location as Noriega, keeping those regulars happy. with two dinners on a weekend evening for Basque family-style celebrations.
• Dining has always attracted brave entrepreneurs, and it's heartening that you still have brave souls willing to risk so much to pursue their culinary dreams, like the young men who created Stupid Wings in the North East.
Bakersfield's relatively reasonable business climate (relative to real estate costs elsewhere in the state) continued to attract those who have had success elsewhere in the Golden State, such as WaBa Grill, Flame & Fire Brazilian Steakhouse (we'll talk about that later), Culichi Town (we'll talk about that later too) or the businessman behind the Tacos de Sancho (places all around Southern California, including San Clemente, which we also have visited).
• Chicken remains the protein of choice. Not only did we have the Fire Wings chain in Bako, and Raising Cane's popped up everywhere, but we also had Baba's Hot Chicken and Bok Bok, an awesome Korean double fried chicken restaurant. Expect more soon, like Charlie's Crazy Chicken on White Lane. Will the trend abate? Have you ever got bored of eating fried chicken?
Best new restaurants
The winner for throwing all his alpha male swagger is Brazilian Steakhouse Flame & Fire at the corner of Stockdale Highway and Allen Road. It is unlike any other local restaurant we have visited, and the quality of the decor and the food makes it a special experience.
There were many other nominees:
Gate. The brains behind Bootleggers have opened a dedicated breakfast and lunch spot on Panama Lane that offers creative pans, burritos, Belgian omelets and waffles, decent burgers and, of course, tater tots in various forms.
Chef's choice in the southwest. Johnny Garlic's former Marketplace location boosted its energy levels a few notches when this successful downtown restaurant moved in, complete with great happy hour, a patio, and a convenient pickup window for delivery or pick up. take out orders. So many of Chef Preeda's specialties are still there, like the shrimp pad thai, the steak salad with the spicy lime vinaigrette and the sea bass with that ginger garlic sauce. Much to like, and the staff are always welcoming.
Old River Grill at the market. Owner Roger Coughenour has opened three breakfast and lunch restaurants in the mold of 24th Street Cafe and Milt's over the past eight years. The restaurateur is endlessly creative and imaginative, tinkering, almost always successful, and his new place at The Marketplace is a gem in many ways.
City of Culichi. Like Flame & Fire, this restaurant, located just east of Hwy 99 on White Lane, has had success elsewhere and is truly radically different from our established restaurants. The Sinaloa-style kitchen restaurant is the creation of entrepreneur Misael Guerrero who started by selling tamales in the parking lots of the Inland Empire and transformed his business into a chain of 15 restaurants. Lots of seafood, including sushi and ceviche, as well as vegan items, wings, burgers, and tacos.
At the C. This place near downtown Maya Cinemas might be called a cooked seafood place in a bag, but it's actually so much more, with curries, noodles, fried rice, soups, fried seafood, chicken, ribs, seafood combos and conventional dishes. meal. During our visits, the seafood has always been ultra-fresh.
Table Bleue Authentic Thai Cuisine. The small, family-run restaurant is just a storefront adjacent to a Vons grocery store, but so many articles on iconic dishes like drunken noodles and tamarind shrimp are worth your time and money. Definitely an understated gem.
Most Improved
Wiki's Wine Dive & Grill has always been a fun place to go, but this year the cuisine has continued to evolve in fascinating ways. The happy hour menu is great, we love the small bites menu for when you just want a little food rather than an appetizer and creations like the parmesan crusted breast sandwich are just an all-around delight. like Roasted Garlic Napa Pizza and Kobe Burgers.
From farm to table is probably the best restaurant you'll find in an old gas station, and it came out of this pandemic with more solid food. We love thoughtfulness at work in owner Heather Laganelli's restaurant, where the slogan is "where creativity meets local + organic ingredients". And the menu identifies local producers, and the art of cooking is evident. One of those rare places where you have never eaten badly.
Wild buffalo wings. Yeah, I expose myself to abuse for saying something good about a chain restaurant. What's next, a rave about Chili's or Olive Garden? But this chain with two branches in Bakersfield always tries to stay ahead of the trends, like another chain that we have found always looking for improvement, Eureka!
Asian cuisine ReMix. When qualifying for something more improved, don't assume that it has had a hard time. We love how the menu at this small local restaurant in the River Walk medical building complex always emphasizes high quality food, and the DIY with the menu never ends. This is another one of those places that ordering is so difficult if you've been there before because there are so many solid options.
The dear departed
Every year we lose restaurants. It is a difficult business. 2021 was no exception. Heidi's Brooklyn Deli There were some things we really liked even though it was in a place a little hard to find, but there was an amazing prime rib sandwich, memorable smoothies and soups. Sometimes the competition is just too strong.
Akira's Japanese Grill on California Avenue has thrived for decades as a teppan steakhouse and sushi restaurant, but I suspect the new Kan Pai in the Northwest has taken on business.
More difficult to explain the loss of Point x Ott downtown, which really fits that chic but laid back vibe of Eastchester, but the craziness of our new business environment can bring down even the enthusiast and the engaged.
What's new in 2022
We look forward to many new restaurants in the New Year, including the recently opened Bread & Honey and Straw Hat Pizza Grille which will soon be arriving in the same busy new mall at the corner of Panama Lane and Ashe Road. I don't know much about Bread & Honey, but with a name like this you can't go wrong. The Straw Hat is a new concept from the chain which expands its typical menu to include burgers, wings, pasta, more sandwiches and full bar service.
We saw signs that a Zeppo pizza was going downtown, but we haven't seen any activity there recently. You will soon be able to check out reports on other new restaurants such as Kyoto Japanese Grill, the new Rancho Grande Mexican Grill in Panama, So Cal Tacos, the new Taco Bros on Ming, the Chicken Shack in Rosedale which opened just before the end. of the year. , and maybe even Cracker Barrel and Dave & Buster's, if they ever open those locations here. Another new restaurant near Kyoto is called Harrington House, which specializes in, according to its brand, "the wine of the cafe kitchen", available "in the morning until noon in the evening".
[ad_2]