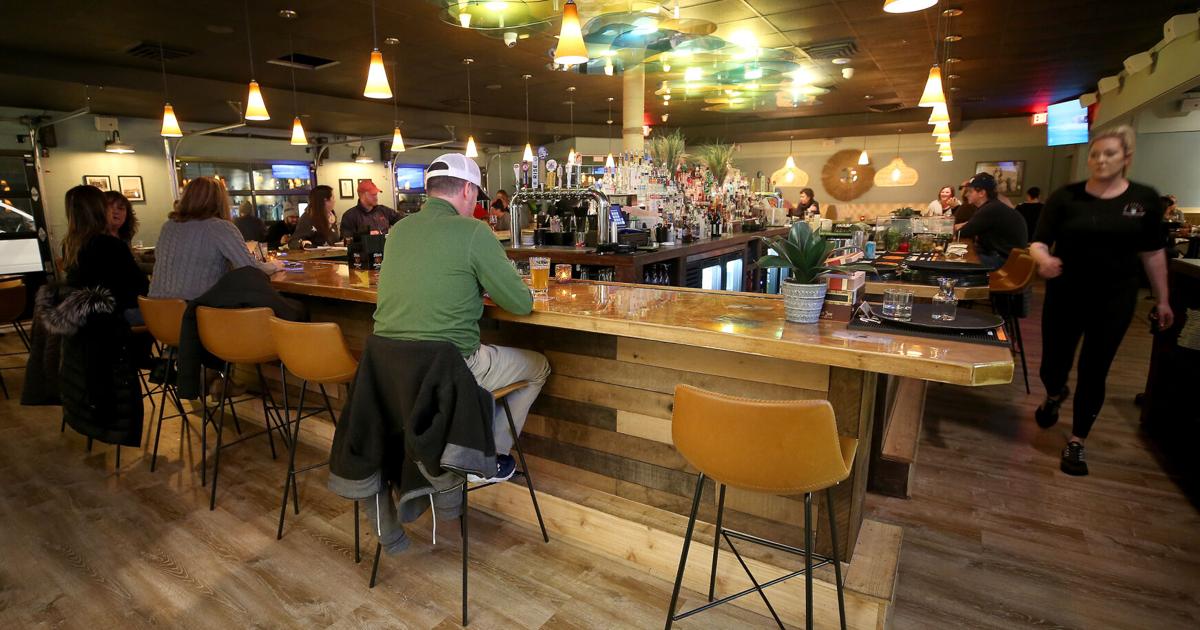 "A hybrid restaurant": Surf Cantina brings Mexican fusion cuisine to downtown Westerly | Daily news alerts
WESTERLY — If she had her way, Frances Medina would walk up to each table and ask diners how they enjoyed their meals.
Medina is the head chef at Surf Cantina, Westerly's new Mexican fusion restaurant, which opened on Canal Street in December and where pasta dishes and fish and chips are served alongside tacos and warm corn tortillas made to order.
"I love watching people enjoy the food I've prepared," said Medina, who ran the Rio Salado kitchen at Mystic before joining Daniel Van Kruiningen and Kenneth Fontaine on their latest culinary adventure. "This is my passion."
Van Kruiningen and Fontaine are no strangers to the regional food scene. Van Kruiningen, who ran Mexican restaurant Margaritas in Mystic for several ears, also opened several spots at Mohegan Sun. Fontaine owns the Norwich Bowling & Entertainment Center.
In 2016, the friends combined their professional backgrounds with their love of food and drink and opened Chapter One Food & Drink in Mystic. In 2018 they opened their second restaurant in Guilford, on Guilford Green. Surf Cantina is their latest collaboration.
"It's a hybrid restaurant, a neighborhood restaurant with a real coastal vibe," said operations manager Justin Cerro of Stonington, who oversaw the opening of the restaurant in a building with a storied past.
Once the home of the legendary China Village, the space was also occupied by 84 on Canal and before that Señor Flacos.
"We opened up the side of the building and put in big bar windows," Cerro said. "We gave the space what it deserves."
In good weather, he said, the transparent garage doors will roll up and be "open to the outside."
As for opening another Mexican restaurant downtown, while Wendy Carr's popular Amigos Taqueria Y Tequila is just a few doors down, Cerro said Surf Cantina is a different kind of restaurant. .
"Of course we have tacos and tequila," he said. "But if I wanted traditional Mexican food, I'd be the first one down the street to Amigos.
"We're more global…or neo-American. Street food. A cafetaria. »
Medina, who lives in Ledyard with his wife Sara and their 9-year-old daughter, Avery, said she created something of a "Mexican fusion menu" for the restaurant.
"It's Baja style," she added. "We also have great burgers and salads, in addition to tacos."
Medina said she wanted to "give a nod" to Western and western traditions, so she worked hard to create a new local dish.
Her soup soup, a chowder loaded with locally made soup, clams, grilled corn and cream, has become a signature dish, she said.
"I knew I wanted to have chowder on the menu," she said, "but I knew I wanted it to be different."
While soup soup can be tasty and popular, Medina said it's his octopus and chorizo ​​that have become the most popular menu item.
"I was surprised," Medina said of the creation which includes crispy octopus, chorizo, white sweet potato and cashew salsa macha. "I can't keep him in the restaurant.
"I knew the octopus would be popular," she added with a laugh, "but I didn't realize how popular it was."
Medina said she prepares the dish by poaching the octopus in red wine, then rolling it in gluten-free breadcrumbs before frying it.
"We have a lot of gluten-free items," she said, "and also a lot of vegetarian options."
Medina, who was born and raised in New York, said she inherited her love of people, food and cooking from her mother, a love she seems to pass on to her daughter.
"She's obsessed with baking," Medina said, "but she doesn't like measuring.
"I keep telling him, 'Avery, when you're cooking a dish, that's one thing,'" Medina said with a chuckle. "But when you're cooking, you have to measure."