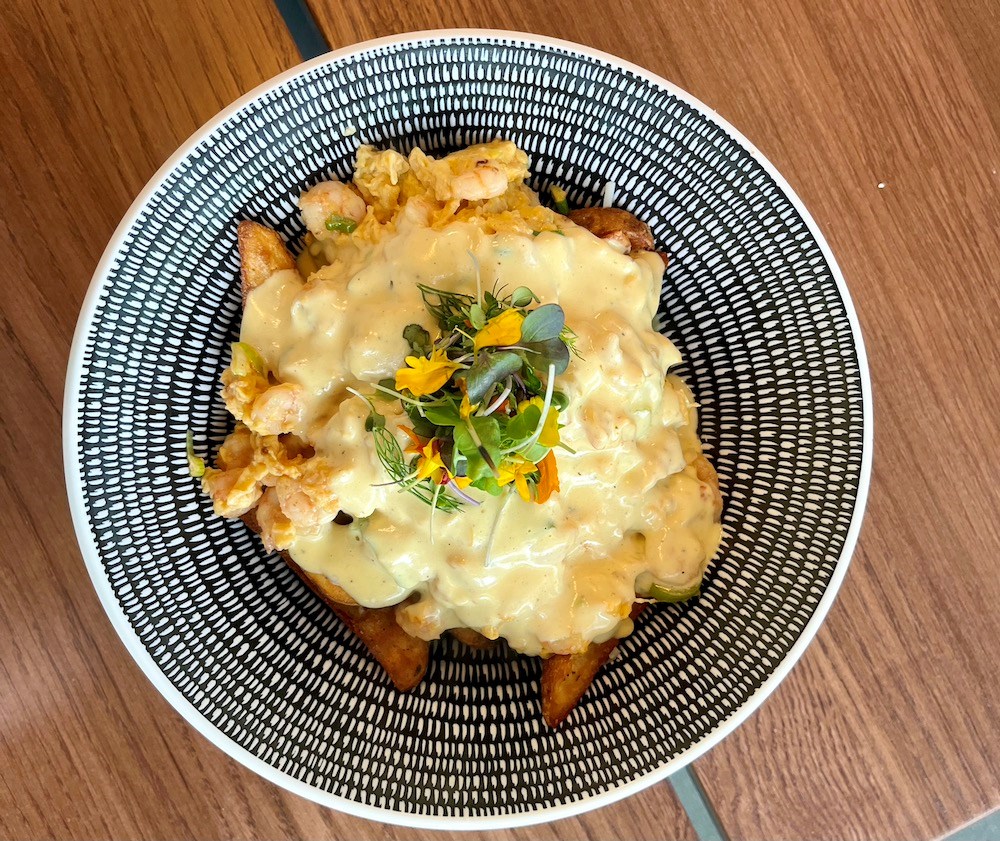 OEB Breakfast Co Opens New Restaurant in West Vancouver, BC
How to cite eggs! It is the fourth Metro Vancouver location for the chain.
The fourth time is a charm for EPO Breakfast Co.Calgary's North American brunch restaurant that just opened in West Vancouver.
The EPO began to crack last year by transforming the former Ambleside location of Vancouver's Heirloom restaurant into an outpost of the concept that serves epic breakfast dishes.
The restaurant is located at 1390 Marine Dr, in an area that has seen many changes and additions lately, with more to come. Recently, Aburi Market opened its first high-end Japanese deli and grocery store there, and Vancouver's French café-patisserie Thierry is also moving into the development.
OEB chef and founder Mauro Martina says he never duplicates a space with each new OEB, meaning this location sports a slightly different decor than its peers, though you can count on the fact that you are going to see bright colors and lots of chicken and egg inspired items all around the restaurant.
West Van's EPO offers a modern feel with high ceilings and glass walls on two sides, so there's plenty of light in the high-energy space. An open kitchen means you can watch the team hard at work, while the smell of breakfast delicacies wafts through the room.
What's on the EPO menu?
When it comes to food, EPO works with regional and local suppliers to source fresh ingredients to use in the many offerings on their menu.
The company has a "lead with soul" philosophy, so it's no wonder one of its calling card dishes is called "Soul in a Bowl."
You'll find Soul in a Bowl in OEB's poutine list. But this isn't a paper bin of gravy-soaked fries; the base – as with almost all poutine dishes – is delicious thick potato wedges fried in duck fat and sprinkled with herbs. For the soul in a bowl, these potatoes are topped with Saint Cyrille cheese curds, slow-cooked lardons of bacon, Hollandaise hazelnut butter and poached eggs.
Variety is the name of the game, however, you can also load up your poutine with an egg Maritime lobster and shrimp scramble with a rich Hollandaise (that's the Lobster Scramble, which is available in limited quantities) or in versions with short Philly style ribs and peppers or duck confit.
Speaking of variety, OEB's eclectic menu borrows from all sorts of familiar breakfast and brunch flavors and ingredients, so you'll see things like a breakfast gnocchi carbonara, sweet or savory pancakes, scrambles, French toast creations, and even simple egg combinations. There are fried burgers, sandwiches or perogie, as well as vegetarian dishes and several kinds of Bennys.
For drinks, sip standard morning fare like coffees, milks and juices, smoothies, or cocktails; their Mimosa flight is sure to be worth catching – who doesn't love a flight?
This "freshly hatched" OEB from West Vancouver joins its ranks in Metro, following its first in Yaletown in Vancouver, one in Burnaby (at Amazing Brentwood) and one in nearby North Vancouver. OEB is franchised in Canada and the United States with locations in Kelowna, Toronto, Saskatoon, Winnipeg, Scottsdale and Newport Beach, in addition to several in its home province of Alberta.
OEB West Vancouver is open from 7 a.m. to 3 p.m. daily.