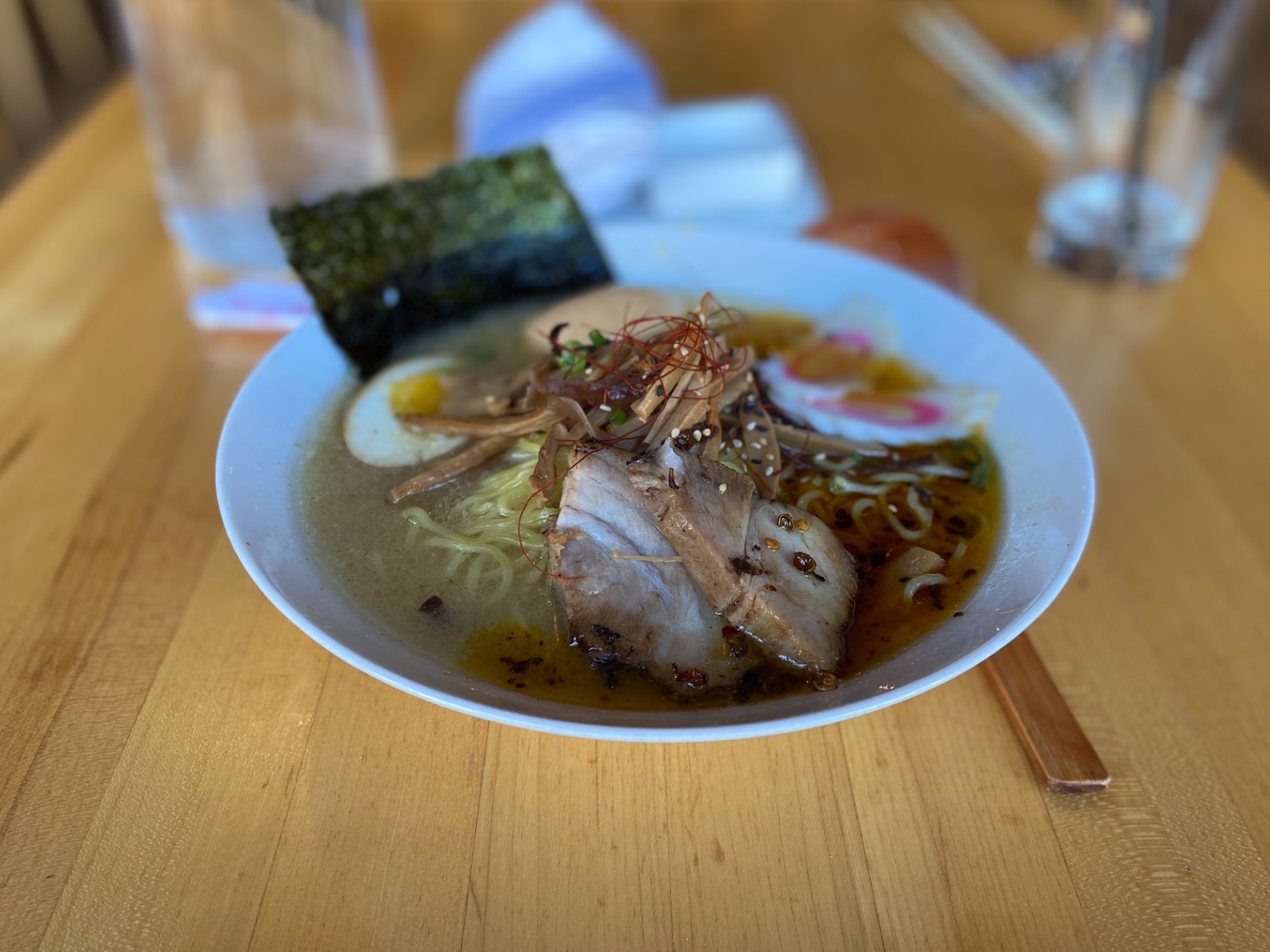 Saturday Soup: Kawa's Hellish Ramen
[ad_1]
With the full effect dropping and temperatures dropping, it's time for the best food in the world: soup. So, every Saturday, broth enthusiast Matt Mueller will present a different sip-worthy spoonful around Brew City. Cheers!
Soup: Notoriously hot enough, right? But given our harsh winters in Wisconsin, sometimes the heat alone won't be enough. Sometimes a tasty, steaming bowl requires something more to get the job done. Sometimes that requires a little hell – hellfire, that is, in the form of Kawa's devilishly delicious hellfire ramen, serving as the perfect remedy for the approaching cold (or just for a rumbling stomach, whatever the forecast).
Found at 2321 N. Murray Ave. on the East Side, Kawa certainly doesn't look like hell's gates, but rather sleek and cozy inside with a long, charming bar that greets you when you first enter and a wide dining room to your left filled with smooth wooden tables and a perfect garage door front window to make the open space even more open when the weather permits. (If you're craving even more air during your dining experience, Kawa currently offers outdoor seating as well.)
But even though it looks pretty cool on the inside, you're probably there for something wonderfully hot – especially a bowl of yummy soup.
The East Side restaurant menu features a duo of udon noodle soups: nebe noodle soup with shrimp and vegetable tempura as well as seafood noodle soup with shrimp, scallops, crab, clams and more. And while these are all surely delicious options, it's not called Kawa Udon Noodle Soup and Sushi. It's called Kawa Ramen and Sushi, so your eyes will almost certainly seek out the bubbling trinity of ramen bowls. There's the traditional tonkotsu ramen, the classic edition of rich pork, plus a slurp-worthy garlic miso ramen – but sometimes the cold weather calls for a boost, and that's where the ramen is. hellfire come into play.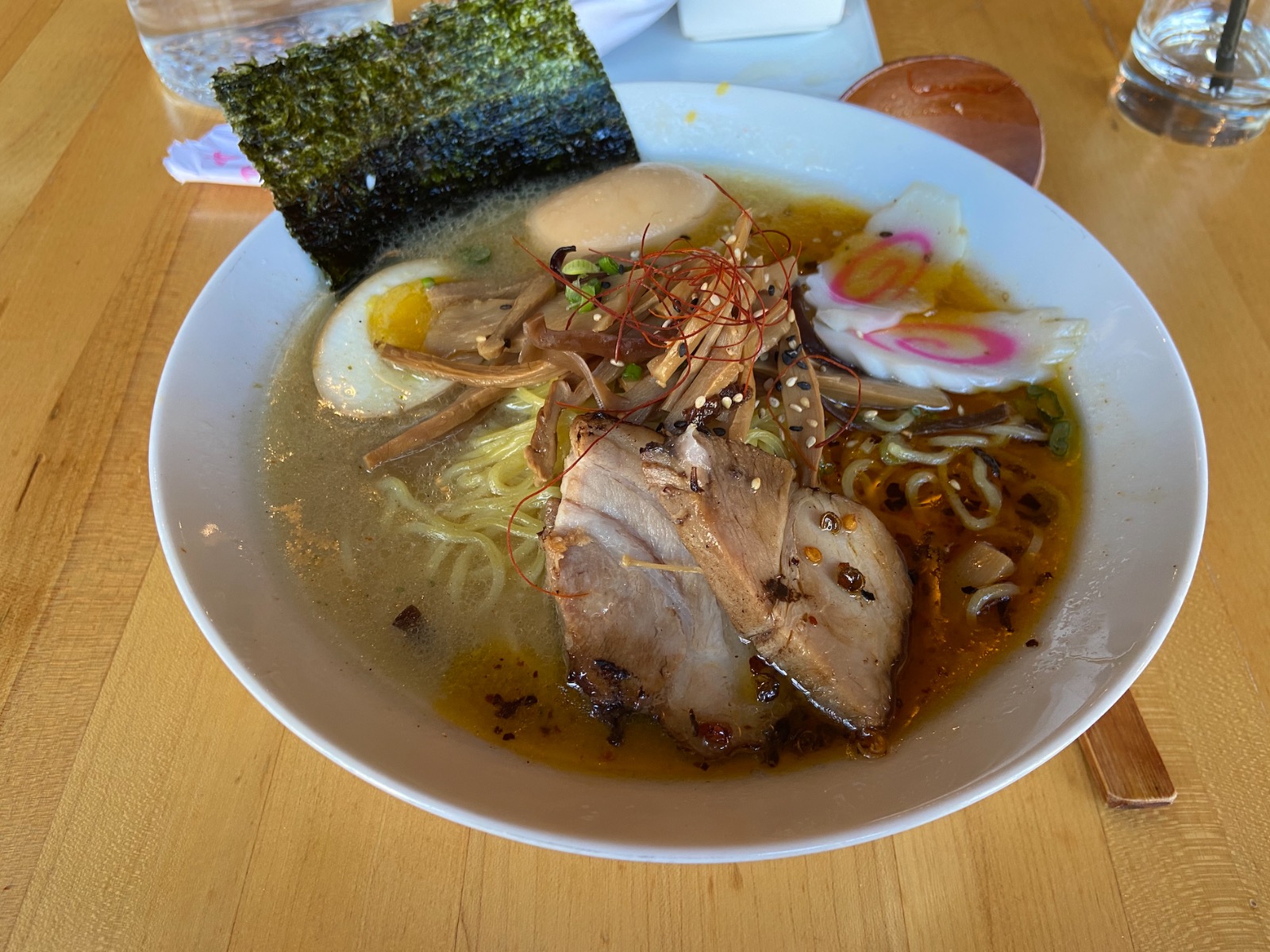 Hellfire ramen starts out innocently enough with most of the classic components of Kawa tonkotsu ramen: greasy burnt pork belly, satisfying fluffy black woodear mushrooms, crispy green onions, tenderly crunchy bamboo shoots, the bonus salty umami of the narutomaki fish cake. swirled with rose and a chewy-boiled egg for a bonus of fatty quality, all immersed in their deeply flavorful pork broth. Then, however, Kawa cranks up this sizzling comfort favorite even more by adding chili strands to the brew with an extra touch of homemade chili oil – which you can get sweet, spicy, or very spicy if you are. willing to risk this. (Pro tip: risk it. Even in the hottest, it's more soothing than scorching.)
The resulting hellfire ramen is utterly divine – all the satisfying richness and pork flavor of a classic tonkotsu bowl, brightened up and made incredibly refreshing and new with the invigorating dose of chili oil that shines on the surface of the bowl. broth, just waiting to be stirred and mixed with the rest of the delicious ingredients. And while it kicks in a mouthwatering kick, the spiciness is ideally balanced, warming up without overwhelming the rest of the ramen. The combination of familiar and fiery flavors soothes your mouth, stomach, and soul all at once, delivering a spicy sensation that no winter chill – let alone a hungry stomach – stands a chance against.
By the time you reach the bottom of the bowl, you'll be convinced that Kawa's hellfire ramen might not be the product of damnation – but they are damn delicious.
[ad_2]