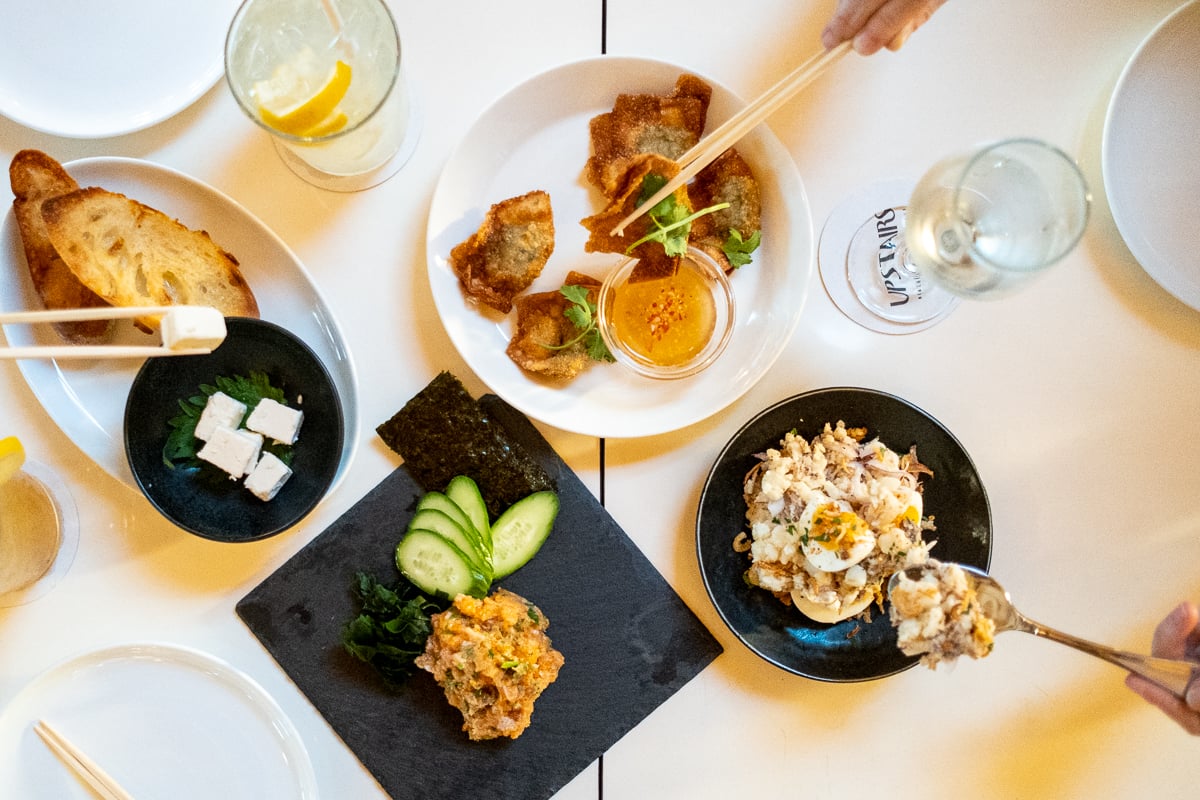 Upstairs Waikīkī combines two of Japan's best under one roof
A A PR manager, sushi master, and Yakitori chef walk into a sake bar. It sounds like the start of a joke, but I assure you it is not. In the former Bills Hawai'i space at 280 Beach Walk, Upstairs Waikīkī is an intriguing new collaboration that brings together dishes from two top Japanese restaurants with a sake bar. What does it look like? We attended a media dinner held to find out.
The closure of Bills due to the long decline in visitor traffic has left Tokyo-based Sunny Side Up, which brought Australian brunch to Waikīkī (as well as Japan and South Korea), with a big dilemma vacant. . CEO Norihito Watanabe approached his friends Keiji Nakazawa of Sushi Sho at the neighboring Ritz-Carlton Waikīkī and Kazunori Yashima of Yakitori Hachibei of Chinatown with a new proposition: a restaurant offering dishes from both, complemented by dishes from the restaurant's own kitchen. . If this worked, other local chefs and restaurants would be featured in a seasonal rotation.
If you've been to Bills, you'll find the cavernous space on the second floor virtually untouched. It's on the quieter 'Ewa side of Waikīkī, with validated parking across the street at Bank of Hawai'i. Upstairs, the afternoon sun filters through the skylights of the high vaulted ceiling to a spacious dining room with a backlit bar. If you're not sure if you can eat inside, the lightness of the space and a policy of leaving all other tables open can allay some doubts.
As day turns into evening, Edison bulbs glow, making the ambience more comfortable. Everything is conducive to settling down with a very fresh daiginjo. The four categories of the large format menu (bar or tsumami snacks, salads, main courses and sweets) reveal a mix of esoteric Japanese and Western dishes. It's like a first-class menu aboard a long-haul flight from Tokyo, with a bit of everything to choose from.
To accompany your first drink tour, start with tsumami appetizers. Sipping a glass of junmai or ginjo brings out the sweetness of Islander Sake's funky and aromatic kasu cream cheese cubes ($ 6); Enjoy it as is or spread on toasted baguette slices. Namero ($ 12) is a salmon tartare with tobiko, spicy ichimi powder, shiso, and negi. Rolled with nori and cucumber, it's a fresh bite that pairs equally well with sake. The crispy Kaua'i shrimp wontons ($ 12) with a salty sweet and sour nuoc cham sauce and the sub-seasoned island potato salad ($ 8), made with Kalua pork and Waimana TKG eggs, are not so memorable.
For the adventurous, fermented squid or shiokara innards ($ 7) and shoyu-marinated squid called okizuke ($ 8) are also on the menu and a recommended pairing with sake.
---
SEE ALSO: Now at the Ritz-Carlton: Sushi Sho
---
The star of the menu is Sushi Sho's bara chirashi set served with tsukemono and suimono soup ($ 35). This was a limited special offer offered at Dean & DeLuca at the Ritz-Carlton in late 2019 before becoming a luxury take-out option when ordering home in 2020. It is by far the most complex item. from the menu, with various cuts of sashimi, egg and shellfish dried Edomae style, then laid out on seasoned sushi rice with strings of fried tamago.
Hovering over the large bowl is like looking into a jewelry box where shining orbs of ikura, lobes of uni, and shards of maguro and aji glisten in the dim light. Take your time to discover new textures and familiar flavors with every bite. If you can't justify the $ 300 for a seat at Keiji Nakazawa's sushi counter across the street, this chirashi will get you close enough for a fraction of the price.
Hachibei's contributions consist of three hits from their Chinatown menu: the hearty oyako donburi ($ 15) of simmered chicken and eggs over rice, the signature chicken ramen ($ 15) and a grilled torimomo chicken thigh. ($ 16) exclusive to Upstairs. The oven-roasted quarter of a jidori chicken thigh arrives with the crispy skin in a lake of seasoned schmaltz, with two rolls of plain rice to sponge it up. The only thing missing is Hachibei's succulent pork belly.
---
SEE ALSO: Luxe on a Stick: Yakitori Hachibei Chinatown
---
Oyako don is rich in juicy J. Ludovico chicken thigh nuggets simmered in dashi and coated in Waimana TKG eggs cooked just enough to stay silky under the weight of a spoon. And like its counterpart in Chinatown, the ramen is served in a personalized Hachibei ramen bowl and has everything you would expect from a chicken ramen: clean broth, tender "char siu" chicken, chewy noodles and spots. of brightness in the form of yuzu kosho and pickled ginger.
Also on the menu are LA-style kalbi ribs ($ 24), which bolster our dinner with more protein. With thin bones and a good piece of tender marinated short ribs, I would order them again. Rigatoni carbonara is also solidly good for what it is, a simple bowl of pasta with a creamy sauce made from melted pancetta, Waimana TKG eggs, and Parmesan cheese. Other options include a pomodoro spaghetti and a burger.
While the dessert selection is slim, with just two choices, the Coconut Pudding and Strawberry Granita ($ 10) are must-haves, both intensely flavored with local fruits and refreshing scoops of ice cream. We couldn't put our spoons down.
Between Sushi Sho's divine-level bara chirashi, Hachibei's well-executed chicken dishes, and a great sake list, Upstairs is the kind of place you want to be when you can't decide a thing: the options cover most things. basics, many of them recommend. And certainly, the 15% discount on kama'āina makes it even easier.
Open Wednesday to Sunday from 5 p.m. to 9 p.m., 280 Beach Walk, (808) 922-1500, upstairshawaii.com, @upstairshawaii